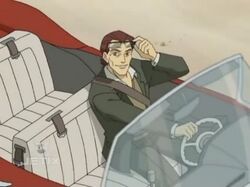 Tony​ Vandom
(voiced by Dan Gilvezan) is
Tony Vandom is Susan's ex-husband and Will's father. He divorced with Susan and disappeared for six months as said in "N is for Narcissist". He is now visiting and is engaged to a woman named Sarina Sanchez, who Will believed was Nerissa. He first appeared in "M is for Mercy" and has red/burgundy hair. Will has an unstable relationship with her father.
In the comic he is a totally different person, a slightly aged looking gambling addicted mean guy who tries to blackmail Will and Susan.
Ad blocker interference detected!
Wikia is a free-to-use site that makes money from advertising. We have a modified experience for viewers using ad blockers

Wikia is not accessible if you've made further modifications. Remove the custom ad blocker rule(s) and the page will load as expected.