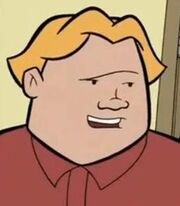 Tony Clementina
(voiced by Frankie Muniz)
[1]
is a one of the four guest characters of
Fillmore!
Biography
He was caught stealing the library books and commited to being framed and accused by Noah Hawthorne and was apologizing to Fillmore and Ingrid.
References
Ad blocker interference detected!
Wikia is a free-to-use site that makes money from advertising. We have a modified experience for viewers using ad blockers

Wikia is not accessible if you've made further modifications. Remove the custom ad blocker rule(s) and the page will load as expected.