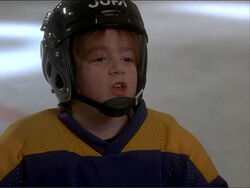 Tommy Duncan
is a character from the film Tommy appears in the film
The Mighty Ducks
. He is portrayed by Danny Tamberelli.
History
Tommy is a hockey player from Minneapolis, Minnesota. Tommy was a member of the District 5 Ducks and was a defenceman as number 2. He is Tammy's, ginger-haired brother and is pretty scared to leave her side. But in the end, Tommy convinces her to switch from figure skating to hockey, which helps the team win the championship. It is implied that Tommy tries to act tough toward his sister despite her being older but he always underestimates her, resulting in him getting knocked down by her.
Ad blocker interference detected!
Wikia is a free-to-use site that makes money from advertising. We have a modified experience for viewers using ad blockers

Wikia is not accessible if you've made further modifications. Remove the custom ad blocker rule(s) and the page will load as expected.