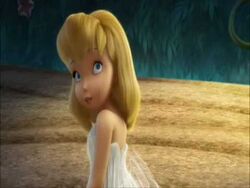 "
To the Fairies They Draw Near
" is a song sung in the
2008
movie
Tinker Bell
. It is performed by Loreena McKennitt, a famous singer and writer of Celtic and World music.
Lyrics
When the moon comes up to the shine of a face
The birds are fast asleep
And the lanterns hang from every post
The fairies leave the keep
They join their hands and sing their songs
That nary a soul can hear
In the springtime when the earth is new
To the fairies they draw near
To the fairies they draw near.
Ad blocker interference detected!
Wikia is a free-to-use site that makes money from advertising. We have a modified experience for viewers using ad blockers

Wikia is not accessible if you've made further modifications. Remove the custom ad blocker rule(s) and the page will load as expected.