Ad blocker interference detected!
Wikia is a free-to-use site that makes money from advertising. We have a modified experience for viewers using ad blockers

Wikia is not accessible if you've made further modifications. Remove the custom ad blocker rule(s) and the page will load as expected.
"Time to Wake Up" is a song from the Johnny and the Sprites episode "Spring Tuning." An ode to spring, it is performed by John Tartaglia as Johnny. It is featured as track 12 on the Johnny and the Sprites music album.
Lyrics
For such a long time
You've been sound asleep
The buds on the trees
The bulbs in the ground so deep
I look at the sun
And there's only one thing I can say
It's time to wake up
Time to wake up
And greet a brand-new day

The winter was cold
The nights were so long
Now the birds have returned
And they're singing a springtime song
Just feel the glow
And see how the snow has gone away
It's time to wake up
Time to wake up
And greet a brand-new day

The wisteria grows as the rainwater flows
To the deep blue sea
Just look up in the sky
You'll see butterflies flying so merrily
It's as beautiful as it can be
So wake up and enjoy it with me

The schmoles in their holes
The bees in their hive
It's days just like this
That make me glad I'm alive
There's one thing to do
Come look at the blue sky that once was gray
It's time to wake up
It's time to wake up
And greet a brand-new day
v - e - d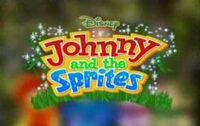 Characters
Johnny | Tina | Gwen | Ginger | Basil | Lily | Root | Sage | Seymour | Fuzzies