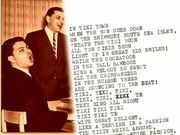 "
Tiki Town
" is a deleted song from
Mary Poppins
. The melody was re-used for
The Chimpanzoo
.
Lyrics
In Tiki Town when the sun goes down

On the shimmery South Sea Isles,

'Neath the Tiki moon all the Tikis soon

Light up in great big smiles!

While the cockatoos in the tall bamboos

Sing a melody so sweet

All the chimpanzees in the rubber trees

Are bouncing to the beat!

Tiki, Tiki, Tiki, Tiki, Tiki, te

They sing all night

Tiki, Tiki, Tiki, Tiki, Te

What a great delight,

Like a dervish in a passion

The tikis whirl around in an outlandish fashion
Ad blocker interference detected!
Wikia is a free-to-use site that makes money from advertising. We have a modified experience for viewers using ad blockers

Wikia is not accessible if you've made further modifications. Remove the custom ad blocker rule(s) and the page will load as expected.