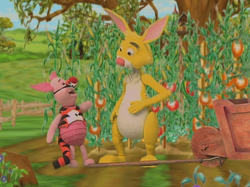 "
Tigger's Replacement
" is an episode from the fith season of
The Book of Pooh
. It originally aired on February 14th, 2001.
Plot
Waiting for the school bus, Roo put his apple. He wiggled and jiggled all the time. Roo says, Look at this! Pooh's friends are happy by myself. Owl helps Pooh, Kanga, Roo, Rabbit, and Kessie home. When Pooh say goodbye to his friends, he goes home and fell down. tigger says, That hurts! on a journey to be in contact with his wild self and teaches Piglet to be his replacement while he is gone. When he comes back briefly after realizing he'd forgotten his toothbrush, Tigger overhears Rabbit saying that Piglet is an improvement over the old Tigger, and decides to leave permanently.
Song