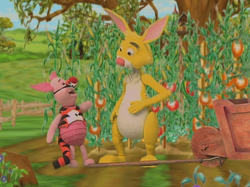 Tigger's Replacement is an episode from the fith season of The Book of Pooh. It originally aired on February 14th, 2001
Plot
Tigger goes on a journey to be in contact with his wild self and teaches Piglet to be his replacement while he is gone. When he comes back briefly, he overhears Rabbit saying that Piglet is an improvement over the old Tigger, and decides to leave permanently.
Song
Ad blocker interference detected!
Wikia is a free-to-use site that makes money from advertising. We have a modified experience for viewers using ad blockers

Wikia is not accessible if you've made further modifications. Remove the custom ad blocker rule(s) and the page will load as expected.