"The name's Tigger! T-I-double-guh-ER! That spells Tigger!"
―Tigger introducing himself

Tigger is an energetic, anthropomorphic stuffed tiger belonging to Christopher Robin that first appeared in Disney's 1968 short film Winnie the Pooh and the Blustery Day. He is one of the best friends of Winnie the Pooh, with an affinity for bouncing.
Background
Tigger is a resident of the Hundred Acre Wood, residing in a literal tree house. When Tigger introduces himself, he often says the proper way to spell his name is: "T-I-double-guh-err, that spells Tigger." As Winnie the Pooh and the Blustery Day indicates, Tigger is Christopher Robin's latest stuffed toy, as the events of the short marks the first meeting between Tigger and Pooh Bear.
Along with his comedic personality and love of bouncing and pouncing, Tigger is known for his theme song, "The Wonderful Thing About Tiggers", in during which he boasts that he is the only tigger in existence. Practically speaking, Tigger's "I'm the only one" statement comes from being the only "tigger" ever made, if one takes into consideration the fact that Pooh, Piglet, Eeyore, and such are all stuffed animals, and homemade ones at that, Tigger is, in fact, the only tigger. Though some Pooh media make reference to Tigger's relatives, The Tigger Movie reaffirms that Tigger is, indeed, the only one of his kind.
Personality
Tigger is arguably the most eccentric member of the Hundred Acre Wood. Overly energetic, reckless, and fairly thoughtless, Tigger is somewhat of a trouble-maker and causes a fair share of mishaps for both himself and his friends. To his core, however, Tigger is extremely loving and friendly; he means well and tries his best to be of support toward his friends, even if his efforts ends in some form of misfortune, such as in Christopher Robin, in which he takes Christopher Robin's papers from his briefcase and replacing them with things from the Hundred Acree Wood to remember him and his friends . He can also be considered the most social of the animals and is exceptionally eager to have his friends join in on his personal joy.
Tigger notably prides himself in being the only "tigger" in existence. This title has given him quite an ego, and he considers himself significantly handsome, debonair, the "greatest bouncer" in the Hundred Acre Wood. Such egotism is never meant to be malicious, but it often drives Tigger to act without much consideration toward others and it often frustrates people. In Winnie the Pooh and the Blustery Day, for example, he bursts into Pooh's home uninvited, takes his food (claiming he enjoys honey, only to rebuff after actually tasting it and realizing how sticky it is) and absentmindedly leaves Pooh in the state of fear over the mention of honey-stealing Heffalumps and Woozles.
Tigger's rambunctiousness is also directly linked to his relationship with Rabbit, who openly dislikes Tigger's various quirks and even works to knock the latter's ego's down a few times. Rabbit's aggression is often expressed without much notice, but in some cases (such as Piglet's Big Movie and Pooh's Heffalump Movie) Tigger has taken note and this leads to mild contention.
With his fun-loving nature and general innocence, Tigger is about as optimistic and carefree as Pooh himself. Rarely ever upset or depressed, Tigger tends to look on the brighter side of a situation; so much so, that he is somewhat obvious to the problems surrounding him. Nevertheless, he is not incapable of falling into a heavy state of vulnerability. His only significant phobia is that of heights—a crippling fear, and one that renders him incapable of even bouncing. He can also be rather insecure at times, with the confidence in his various assets simultaneously acting as his greatest weakness; when he's unable to perform his usual antics with a usual (if not greater) amount of ease, he instantly becomes emotional and openly self-loathing.
For all of his shortcomings, Tigger is very much the heart of the Hundred Acre Woods' social circle. While exuberant and boisterous, he gives levity to the fearfulness of Piglet, or the gloominess of Eeyore, by providing a sense of confidence, joy, and optimism.
Film appearances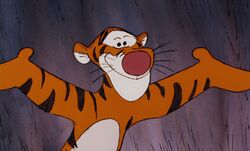 Tigger is first seen on the segment Winnie the Pooh and the Blustery Day. Late at night, Tigger introduces himself to Pooh, after having bounced into Pooh's house and onto Pooh. Tigger later attempts to eat Pooh's honey but dislikes it. Tigger then tells Pooh about Heffalumps and Woozles, who steal honey. Tigger leaves as fast as he came. Tigger is seen the next day, coming to Christopher Robin's house with Rabbit, Kanga and Roo to find safety from the flood. Afterward, he is shown celebrating at Pooh's first hero party and then again, singing along to "Hip-Hip-Poohray".
In the segment Winnie the Pooh and Tigger Too, Rabbit is seen becoming frustrated with Tigger's constant bouncing, especially when he ruins his garden. Rabbit makes a plan to lead Tigger into the deepest part of the woods and loses him there. This plan is foiled when Rabbit, along with Pooh and Piglet become lost in the mist themselves. Pooh and Piglet eventually find their own way home and run into Tigger. Tigger reveals that "Tiggers never get lost" and then rescues Rabbit, who is still lost in the mist.
During wintertime, Tigger comes to take his best friend Roo out to play. Tigger inadvertently reveals that he is afraid of heights when he and Roo bounce up a tree, and Tigger becomes to scared to come down. Rabbit, Christopher Robin, Pooh, Piglet, and Kanga all come to Tigger's rescue. While Roo is able to jump down to safety, Tigger remains stuck. Going so far as to promise not to bounce again, the Narrator finally helps Tigger to come down. Rabbit initially intends to hold Tigger to his word, but relents when he sees how sad Tigger and everyone else is. Tigger then sings his song as he teaches everyone how to bounce.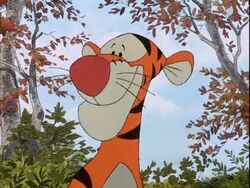 In this short film, Tigger is portrayed in a more antagonistic light, albeit childishly so.
While Pooh, Piglet, Rabbit, and Roo are playing Poohsticks, they see Eeyore floating in the river below. After a somewhat successful attempt to get him to shore, he tells them that he fell in due to being bounced from behind, to which Piglet assumes to have been caused by Tigger. Sure enough, Tigger arrives on the scene, and he claims that his bounce was actually a cough, leading to an argument between him and Eeyore, but with some outside help from narrator Laurie Main, the animals find out that Tigger has indeed deliberately bounced Eeyore. Tigger says it was all a joke, but nobody else feels that way. Tigger disgustedly says that they have no sense of humor, and bounces away.
Tigger arrives again during Eeyore's birthday party, which angers Rabbit, who opines that Tigger should leave because of the way he treated Eeyore before. Roo wants Tigger to stay, and Christopher Robin's solution is for everyone to go to the bridge and play Poohsticks. Eeyore, being a first-time player, wins the most games out of everybody, while Tigger does not win at all, causing him to conclude that "Tiggers don't like Poohsticks". Eeyore's secret for winning, as he explains to Tigger afterward, is to "let [his] stick drop in a twitchy sort of way." As Tigger bounces Eeyore again, Pooh and Piglet decide that "Tigger's all right, really."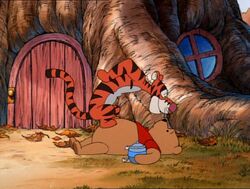 In the sequel to The Many Adventures of Winnie the Pooh, Tigger is first seen failing to rescue Piglet, who is stuck on a high tree branch. This causes Tigger to question his bouncing.
Later, it is discovered that Christopher Robin is supposedly kidnapped, leaving only a letter as a warning of his fate. Pooh and friends embark on a perilous journey to rescue Christopher, with Tigger tagging along. During the adventure, the map leading to Christopher Robin's whereabouts is torn, with one piece drifting over a log across a ravine. Tigger chases after but is unable to reach it due to his weak bouncing of late. The log then tumbles further down the ravine, frightening Tigger to a standstill. Pooh and the others encourage him to bounce to safety, but due to his insecurities, Tigger refuses, resulting in a rescue mission. By the end, the log breaks, causing the gang to fall into the mud below.
Tigger is later given the chance to redeem himself when the group manages to find Christopher Robin within the vast inner workings of a skull cave. Unfortunately, the obstacle keeping them from reuniting with their friend is an impossible height. Tigger is able to gather the strength within his tail, and muster his courage to bounce each of his friends to the designated point, successfully leading to the "rescuing" of Christopher Robin, who revealed to have only been away at school for the day. With the misunderstanding that Owl created, cleared, the friends (including a reinvigorated Tigger) return to the Hundred Acre Wood.
In this film, Tigger convinces the narrator to make himself the main character of the movie instead of Pooh. As the story goes, Tigger is sick of being the one and only Tigger in the Hundred Acre Wood and goes out to search for his 'real' family. After hearing about family trees from Owl, Tigger, who took the advice literally, tries to find a striped tree. When he finds none, he attempts to write a letter to his family. When no response comes, Tigger becomes lonely. Roo and friends try various methods to cheer him up, but they all fail. To make amends, they decide to write the response letter themselves.
Tigger, seemingly deceived by the letter, suggests it's from the family he thinks about, but when Pooh and friends dress up as costume Tiggers in an attempt to avoid disappointment, he discovers the truth. Nevertheless, Tigger refuses to give up hope for himself and sets off in a potentially deadly blizzard to find his 'true family', having felt betrayed by his friends. Pooh, Roo, Rabbit, Piglet, and Eeyore set out to find Tigger. They do but are nearly killed by an avalanche caused by Tigger's loud, frustrated shouting after Rabbit somewhat insults Tigger's goal. Tigger saves everyone by bouncing them into a branch of the tallest tree in the Hundred Acre Woods.
Tigger is still saddened about his family. At the end of the film, however, Christopher Robin explains to Tigger that Pooh, Piglet, Rabbit, Eeyore, Owl, Roo, and Kanga are his family. Tigger finally agrees to this and takes a family picture to place in an amulet now belonging to Roo, Tigger's little brother.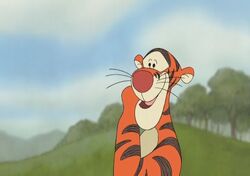 At the start of the film, Tigger takes part in Pooh and Rabbit's plan to extract honey from the beehive. Tigger's job is to help Pooh act as a tree and hold a decoy hive to trap the bees. The plan goes downhill but their friend Piglet imprisons the bees saving everyone. Like everyone, Tigger fails to notice. When Piglet goes missing, Tigger and pals can't find him, Tigger joins in the big search.
In order to find him, the friends use Piglet's scrapbook filled with memories of the past (including one seen of him tearfully being reminded of the "family reunion" from The Tigger Movie). When Tigger and Rabbit get into an argument they end up ripping the book. They repair enough to continue searching for Piglet. Tigger assists Rabbit, Roo, and Eeyore as they try to rescue Pooh from a deep drop down from a waterfall. They do but only with the help of Piglet. Tigger finally has a chance to thank his friend for all he's done and attends the party in celebration of Piglet.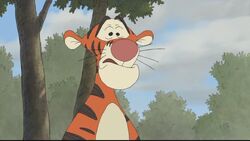 Tigger is fast asleep in his tree house but is soon awaken by a loud noise. Tigger rushes to Rabbit and learns a Heffalump is in the woods. Tigger prepares himself to catch the beast and joins his friends on an expedition into the home of the Heffalumps, Heffalump Hallow. Tigger and Rabbit are separated by Pooh and Piglet and become trapped in one of their traps. After freeing themselves they hear the noise yet again. Tigger and his friends rush back home only to learn a Heffalump was in their home.
Oblivious to Tigger and his friends, a baby Heffalump has become friends with Roo and they are looking for Pooh and his friends to properly meet. After spotting Roo and the Heffalump, Tigger is angered, believing the Heffalump is trying to kill Roo. Along with Rabbit, Tigger attacks the young Heffalumps (named Lumpy) and makes an attempt to trap him. He manages to escape, but after Roo lands in trouble, Lumpy's mother arrives and saves the young kangaroo. Realizing Heffalumps aren't savage beasts, things are set straight and the inhabitants of both the Hundred Acre Woods and Heffalumps Hallow becomes friends. Tigger, especially, warmed up to the newfound unity after he learned Heffalumps love to bounce.
Tigger also appears in the sequel Pooh's Heffalump Halloween Movie, where he tells his friends about the Spookable, a creature that comes out every Halloween.
Tigger is first seen when Pooh has a very important thing to do. Tigger spotted a balloon with Pooh and pounced it, thinking it was attacking Pooh. Later on, Pooh finds a mysterious letter indicating (or at least according to Owl) that Christopher Robin has been captured by a ferocious beast known as the Backson. Like the others, Tigger fears the creature and joins the adventure to defeat the monster and rescue Christopher.
While the gang sets traps and bait, Tigger separated himself, believing only Tiggers can catch Backsons. Tigger attacks Eeyore, mistaking him for a Backson. Eeyore was left behind by the others because he couldn't keep up. Feeling bad for his friend, Tigger offers Eeyore a spot in his expedition making Eeyore "Tigger Two." Tigger dresses as the Backson to train Eeyore for battle. Eeyore escapes the scene, however, not wanting to join Tigger. Meanwhile, Pooh and the others accidentally trap themselves in a pit trap meant for the Backson and sends Piglet to Christopher Robin's house to find rope.
Piglet begins his search in the forest and runs into Tigger, still in his Backson costume. Piglet rushes away in fear, falling into the pit with Tigger falling behind. Fortunately, Pooh creates a latter using the textbook letters that fell into the pit whilst Piglet was running away from Tigger in his Backson costume. The friends are freed and reunite with Christopher Robin who was merely off on a day at school. In the end, Pooh finds Eeyore's lost tail and receives a large honey pot reward for its recovery. Tigger was animated by Andreas Deja and voiced again by Jim Cummings.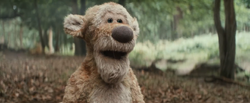 Tigger returns in the live-action film, taking place during Christopher Robin's adulthood. Though much older and worn, Tigger is every bit as energetic and enthusiastic. When Pooh fears that an adult Christopher Robin has lost his way, Tigger joins him, Piglet and Eeyore in traveling to London to save their friend. Tigger easily becomes best friends with Madeline Robin, Christopher's daughter, as he teaches her how to bounce. Jim Cummings returns to voice Tigger in the film, and his design stays faithful to Milt Kahl's distinct interpretation (the most notable differences being his eyes, which are now green instead of black, his stripes, which are now orange instead of black, and his eyebrows, which are now white instead of black, which does share similar colors to that of the real Tigger doll owned by Christopher Robin Milne).
Other films
In Winnie the Pooh: Springtime with Roo, Tigger attempts to help Rabbit get into the spirit of Easter, also acted as the Ghost of Christmas Past from The Christmas Carol.
Television
In contrast to Tigger's other appearances, Welcome to Pooh Corner featured a life-size Tigger puppet operated by a person. He lives with Kanga and, like another series is close friends with Roo. He is also depicted as having a talent for art.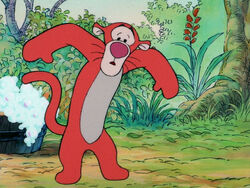 Tigger features as a main character in the animated series, The New Adventures of Winnie the Pooh. In this series, Tigger is shown to live in his own home, a tree house. He has many episodes that revolve around him. Several episodes show that he has two alter egos: The Masked Offender (a mispronunciation of Masked Avenger), and Tigger, Private Ear, who was based on a detective story Tigger had heard.
In the episode "King of the Beasties", Christopher Robin is showing everyone their different relations (i.e. the animals they are based on). When Christopher Robin reveals that he is uncertain what Tigger is related to, Tigger assumes that he is related to a lion, and thus is the King of Beasts. "All's Well That Ends Wishing Well" reveals that Tigger has never had a birthday party. The friends decide to give him one, but Tigger becomes disappointed when his birthday wishes don't come true. Tigger and friends are later transported to a world where Tigger's birthday wishes can all come true.
A different side of Tigger is shown in "Stripes". Tigger becomes unsure of his identity when his stripes are washed off after a bath, as Tiggers are recognized by them. During the episode, Tigger tries being a rabbit, a bear, and a Christmas tree, but in the end, Eeyore tells Tigger that he is always the same person on the inside.
Tigger was one of the main characters of the live-action series as an articulated puppet.
Following the adventures of Pooh and friends within the Hundred Acre Woods, Tigger served as the focus for several episodes, including "I Could Have Laughed All Night", where Tigger believe Kessie finds his laugh ridiculous, thus resulting in him vowing to never laugh again; "Could it Be Magic", where Tigger decides to take up magic; and "The Autobiography of Tigger", and many others.
Notably, in "Tigger's Replacement", Tigger goes on a journey to get in contact with his wild self, leaving Piglet behind as a temporary replacement. However, after overhearing Rabbit commenting on Piglet being an improvement on the old Tigger, the latter decides to leave permanently.
In "Night of Waking Tigger", Tigger believes he's spending too much time asleep and decides to spend his nights wide-awake from that point forward, which causes his friends to try to get him back to sleep.
Tigger regularly made cameo appearances in the animated series, House of Mouse, often sitting alongside Pooh and the other characters from the franchise. During the opening, he can be seen bouncing throughout the crowd. He's also present whenever the running gag of the audience fleeing the club is utilized.
In "The Mouse Who Came to Dinner", Tigger was mentioned by Mortimer Mouse when the latter referred to Shere Khan as "Tigger's Evil Twin". In "Ask Von Drake", Tigger was present during the headcount of all the Disney character guests. In "Turkey Day", he was seen sitting alongside Eeyore and Piglet as the two commentated on the numerous events occurring before them after finishing their evening meals. In "House of Genius", he is seen mid-bounce waiting for Daisy to wait for his table along with the other guests, much to his and the other guest's annoyance. In Goofy's Menu Magic, he was seen yelling at Goofy when he asked if anyone wanted more stew, along with Pooh.
Tigger also made appearances in Mickey's Magical Christmas: Snowed in at the House of Mouse; most notably during Eeyore's stage speech and the finale song.
Tigger was one of the central characters for the animated series and was brought into the third dimension. Here, Tigger was part of a small mystery organization consisting of himself, Pooh Bear, a young girl named Darby, and her puppy Buster. Together, the team (known as the Super Sleuths), traveled throughout the Hundred Acre Woods to solve mysteries and problems revolving around both themselves and their friends.
Tigger made a guest appearance in the episode "Into the Hundred Acre Wood!". While looking for Pooh with Piglet and Eeyore, he mistakes Stuffy for Pooh and bounces him.
Other shows
In The Mouse Factory, Tigger made recurring appearances in the live-action wrap-around skits alongside the other costumed characters and celebrity guests.
In the Aladdin episode "As the Netherworld Turns", Genie is playing Charades with Aladdin, Jasmine, and the Sultan. When it's the Sultan's turn, he pretends to be a monkey, which Genie guesses correctly. Pleased, he turns into Tigger, claiming "Guessing is what Genies do the best!"
Video Games
Tigger is the main character in this game. Here, Tigger went on a long journey through the entire Hundred Acre Woods to collect honey for a special party in honor of Pooh. Throughout the search, Tigger visited some of the well-known and unknown parts of the woods including a cave full of diamonds and jewels as well as Heffalumps.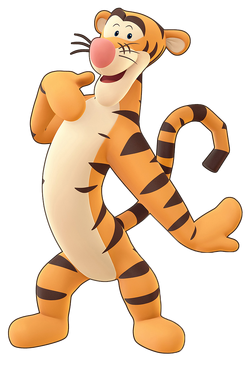 Tigger is a recurring character in the series that resides in the Hundred Acre Wood world.
Tigger makes his first chronological appearance in Kingdom Hearts Birth by Sleep as a Command Board character, alongside Pooh.
In Kingdom Hearts, he appears in several minigames. He is often seen bouncing on tree stumps with Roo and even has his own "bouncing corner". He also ruined Rabbit's farm, bouncing on his carrots and lettuces.
Ge reappears in Chain of Memories as a recreation of Sora's memories in Castle Oblivion.
Then in Kingdom Hearts II, he is part of several more minigames. One involves him and Roo and takes place in Kanga's house. He is also an ally that helps Sora through the "Spooky Cave" mini-game.
Tigger appears in the game as an unlockable meet-and-greet character near the Splash Mountain exit in Critter Country. He also plays a major role in the Many Adventures of Winnie the Pooh mini-game. When Pooh gets trapped in one of Piglet's Woozle traps, Tigger feels that a Woozle is still out and about, and plans on scaring the Woozles away with the help of the player.
Tigger appears as a walk around, non-playable character in the form of one of the townspeople.
In the Disney theme parks around the world, Tigger is a very common character who usually appears with Pooh or Eeyore, and occasionally Piglet and Rabbit.
Tigger appeared in the World of Color pre-show as a large puppet with a flashy body system along with Lumière, Sebastian, Genie, and Mike Wazowski. Some of the puppets were later used in the Paint the Night parade at the Disneyland park.
In the 2015 rendition of World of Color, Tigger made a cameo appearance during the opening sequence, in honor of Walt Disney.
For meet-and-greets, Tigger can be found in Critter Country.
In Florida, Tigger can be found in the Magic Kingdom's Fantasyland, the Crystal Palace buffet, and the United Kingdom Pavilion in Epcot for meet-and-greets.
Tigger's voice can be heard during Once Upon a Time at the Magic Kingdom, where he introduces the Heffalumps and Woozles.
In the game show "Win, Lose or Draw" during Disney World Week, Tigger is seen on a sailboat with host Bert Convy.
In Pooh's Hunny Hunt, Tigger bounces along with the audience while singing "The Wonderful Thing About Tiggers".
In Shanghai, Tigger is one of the characters part of Garden of the Twelve Friends, representing the Chinese Zodiac symbol of the tiger. He also appears during Mickey's Storybook Express.
Tigger appears in the dark ride as an audio-animatronic. Tigger is first seen after the Blustery Day and Honey Tree sections and bounces with the riders and eventually introduces the Heffalumps and Woozles scene. In the Walt Disney World and Hong Kong Disneyland versions of the attraction, Tigger's voice work is done by the late Paul Winchell while in Disneyland, it's done by Jim Cummings.
Gallery
Trivia
Tigger has his own theme song, "The Wonderful Thing About Tiggers", written by Richard M. Sherman and Robert B. Sherman.
Tigger's catchphrase of "Hello-o-o-o-o-o-o-o" is likely based on a real tiger's call, which sounds quite similar in its rising and falling tones.
In Lilo & Stitch 2: Stitch Has a Glitch, Pleakley is wearing a Tigger slipper.
Walt Disney originally intended for Tigger to be voiced by Wally Boag, though after Walt's death in 1966, the part ended up going to Paul Winchell.
In animation, Tigger's nose is pink. In his walkaround costume, his nose is black, though the Disney Live version's is pink also, and in puppetry, it's red.
Tigger's departing comment of "T.T.F.N." or "Ta-ta for now" has become widely used as Internet shorthand for users departing from chat rooms and other live discussions.
In the pre-1997 Disney presentations, Tigger was originally voiced by Paul Winchell. Winchell died June 24, 2005; John Fiedler, the voice of Piglet in most of those films, died the next day.
Tigger's "birthday" is believed to be in October 1928, the year that The House at Pooh Corner was first published. On Tigger-related merchandise, Disney often indicates Tigger's birth year as 1968, a reference to the first year that Tigger appeared in a Disney production.
Tigger also makes an appearance in the anti-drug movie Cartoon All-Stars to the Rescue with many other 1980's animated stars.
It is ironic that Tigger appeared in two Disney on Ice shows, Great Ice Odyssey and Snow White as well as skating in "Round My Family Tree".
The My Friends Tigger & Pooh episode "How the Tigger Lost His Stripe" reveals he named the stripes on his tail, in order:

"Springy" (second stripe)
"Whirly" (sixth stripe)
"Swirly" (fourth stripe)
"Curly" (top stripe)
"Bouncy" (bottom stripe)
"Flouncy" (fifth stripe)
"Leapy" (seventh stripe)
"Oomphry" (third stripe)

Tigger's current voice actor, Jim Cummings, also provides the voice of Pooh himself.
In "A Pooh Day Afternoon", it's revealed he can do an impression of a horn honk and a bottle of pop.
Paul Winchell created Tigger's voice by using his ventriloquist dummy, Knucklehead Smiff; as he stated in recent interviews Paul did in 2004.
References
v - e - d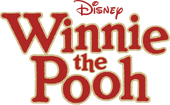 Episodes
Welcome to Pooh Corner
"You Need a Friend" • "Doing What I Do Best" • "The Pooh Scouts" • "Brighten Your Corner" • "Safety First" • "Rabbit Learns to Share" • "The Great Outdoors" • "Surprise, Surprise" • "Piglet Pride" • "Roo's Great Adventure" • "Eeyore Talks to Himself" • "Snow Falls on Pooh Corner" • "Hello, Hello There" • "Practice Makes Perfect" • "The Old Swimming Hole" • "Pooh Makes a Trade" • "A Bicycle Built for Five" • "My Echo and I" • "Pooh Learns to Remember" • "Wishing" • "Don't Quit" • "Holiday for Pooh Bear" • "Pooh Builds a Bee House" • "Piglet Lends a Helping Hand" • "Pooh Borrows Trouble" • "Clouds" • "The Fastest Rabbit in the Wood" • "When I Was Younger" • "Eeyore Joins the Band" • "Eeyore's Costume Party" • "A Swing for Eeyore" • "Do it Now" • "Carrots, Carrots, and More Carrots" • "Hi Neighbor" • "Spaghetti, Spaghetti, Spaghetti" • "Rabbit's Cousin" • The Great Kite Race" • "Fine Feathered Friend" • "Piglet's Slumber Party" • "Piglet Learns to Swing" • "Handyman Tigger" • "Pooh Corner Singing Society" • "Pooh Cares for a Carrot" • "Tigger Finds a Hobby" • "Almost Perfect Picnic" • "The Iceboat Cometh" • "It Must Be Summer" • "Song of Eeyore" • "Tale of a Tail" • "Pooh Goes Boom"

The New Adventures of Winnie the Pooh
Season One: "Pooh Oughta Be in Pictures" • "Donkey for a Day/Friend, In Deed" • "There's No Camp Like Home/Balloonatics" • "Find Her, Keep Her" • "The Piglet Who Would Be King" • "Cleanliness is Next to Impossible" • "The Great Honey Pot Robbery" • "Stripes/Monkey See, Monkey Do Better" • "Babysitter Blues" • "How Much is That Rabbit in the Window" • "Gone with the Wind/Nothing But the Tooth" • "Paw and Order" • "Honey for a Bunny/Trap as Trap Can" • "The Masked Offender/Things That Go Piglet in the Night" • "Luck Amok/Magic Earmuffs" • "The Wishing Bear" • "King of the Beasties/The Rats Who Came to Dinner" • "My Hero/Owl Feathers" • "A Very, Very Large Animal/Fish Out of Water" • "Lights Out/Tigger's Shoes" • "The "New" Eeyore/Tigger, Private Ear" • "Party Poohper/The Old Switcheroo"
Season Two: "Me and My Shadow/To Catch a Hiccup" • "Rabbit Marks the Spot/Good-bye, Mr. Pooh" • "Bubble Trouble/Ground Piglet Day" • "All's Well That Ends Wishing Well" • "Un-Valentine's Day" • "No Rabbit's a Fortress/The Monster Frankenpooh" • "Where, Oh Where Has My Piglet Gone?/Up, Up and Awry" • "Eeyore's Tail Tale/Three Little Piglets" • "Prize Piglet/Fast Friends" • "Pooh Moon/Caws and Effect"
Season Three: "Oh, Bottle/Owl in the Family" • "Sham Pooh/Rock-a-Bye Pooh Bear" • "What's the Score, Pooh?/Tigger's Houseguest" • "Rabbit Takes a Holiday/Eeyi Eeyi Eeyore" • "Pooh Skies" • "To Bee or Not to Bee/April Pooh" • "A Knight to Remember" • "Tigger is the Mother of Invention/The Bug Stops Here" • "Easy Come, Easy Gopher/Invasion of the Pooh Snatcher" • "Tigger Got Your Tongue/A Bird in the Hand"
Season Four: "Sorry, Wrong Slusher" • "Grown But Not Forgotten" • "A Pooh Day Afternoon" • "The Good, the Bad, and the Tigger" • "Home is Where the Home is" • "Shovel, Shovel, Toil and Trouble/The Wise Have It" • "Cloud, Cloud Go Away/To Dream the Impossible Scheme" • "Piglet's Poohetry/Owl's Well That Ends Well"
Special: "Winnie the Pooh and Christmas Too" • "Boo to You Too! Winnie the Pooh" • "A Winnie the Pooh Thanksgiving" • "Winnie the Pooh: A Valentine for You" • "Winnie the Pooh: A Very Merry Pooh Year"

The Book of Pooh
Season One: "Best Wishes, Winnie the Pooh/Double Time" • "Are You Me?/Rabbit's Happy Birthday Party" • "Circumference Equals Pirate 'Arrr' Squared/Pooh's to Do" • "Pigletry/Dinosnores" • "I Could Have Laughed All Night/X Spots the Mark" • "My Gloomy Valentine/Mr. Narrator" • "Vegetable of Contents/A Welcome to Beat the Band With" • "Owl's Book/The Autobiography of Tigger" • "You Can Lead Eeyore to Books/The Spice of Life" • "The Words Are Out/Brain Drain"
Season Two: "Please and Thank-You's/The Rumor Millstone" • "Over the Hill/Tigger's Replacement" • "The Wood Without Pooh/Friends of a Different Stripe" • "Mothers of Invention/Once Upon a Happy Ending" • "Piglet's Perfect Party/A Wood Divided" • "Bravehat/Scaredy Cat" • "Blue Ribbon Bunny/Under the Pig Top" • "The Book of Boo" • "Could it Be Magic?/Diary of a Mad Gardener" • "The Case of the Disappeared Donkey/The Littlest Dinosnore"
Songs
Movie Songs
Winnie the Pooh and the Honey Tree: "Winnie the Pooh" • "Up, Down, Touch the Ground" • "Rumbly in My Tumbly" • "Little Black Rain Cloud" • "Mind Over Matter"
Winnie the Pooh and the Blustery Day: "A Rather Blustery Day" • "The Wonderful Thing About Tiggers" • "Heffalumps and Woozles" • "Rain, Rain, Rain Came Down, Down, Down" • "Hip-Hip-Poohray"
Boo to You Too! Winnie the Pooh: "I Am Not Afraid" • "I Wanna Scare Myself"
Pooh's Grand Adventure: The Search for Christopher Robin: "Forever & Ever" • "Adventure is a Wonderful Thing" • "If It Says So" • "Wherever You Are" • "Everything is Right"
The Many Songs of Winnie the Pooh: "It Really Was a Woozle, Yes it Was"
Sing a Song with Pooh Bear: "Kanga Roo Hop" • "You're the One and Only One" • "Harvest What You Grow" • "My Song"
Winnie the Pooh: A Valentine for You: "Girls are Like Boys" • "When the Love Bug Bites" • "Places in the Heart"
The Tigger Movie: "Someone Like Me" • "Whoop-de-Dooper Bounce" • "Lull-a-Bee" • "Round My Family Tree" • "How to Be a Tigger" • "Your Heart Will Lead You Home"
Piglet's Big Movie: "A Mother's Intuition" • "With a Few Good Friends" • "Sing-Ho (For the Life of a Bear)" • "The More It Snows (Tiddely-Pom)" • "The More I Look Inside" • "Comforting to Know"
Springtime With Roo: "We're Huntin' Eggs Today" • "Easter Day With You" • "The Way It Must Be Done"
Pooh's Heffalump Movie: "Little Mr. Roo" • "The Horribly Hazardous Heffalumps" • "The Name Game" • "Shoulder to Shoulder" • "In the Name of the Hundred Acre Wood/What Do You Do?"
Pooh's Heffalump Halloween Movie: "Trick 'R Treating With Our Friends" • "Brave Together" • "As Long As I'm Here With You"
Learning Adventures: "A Word That Sounds Like Autumn" • "Letter Shapes and Sounds" • "Counting" • "Bouncerific" • "The Shape of Things" • "Big Small Wonderful Wood" • "Different as Night and Day" • "Honey Pot"
Winnie the Pooh: "The Tummy Song" • "A Very Important Thing to Do" • "The Winner Song" • "The Backson Song" • "It's Gonna Be Great" • "Everything is Honey" • "Pooh's Finale"
Christopher Robin: "Goodbye, Farewell" • "Busy Doing Nothing" • "Christopher Robin"
Television Songs
Welcome to Pooh Corner: "Welcome to Pooh Corner Theme Song" • "Try a Little Something New" • "The Right Side" • "Yes, I Can" • "You're the Only You" • "I Hum to Myself" • "Please and Thank You" • "Responsible Persons" • "Welcome to Pooh Corner Ending Theme"
The New Adventures of Winnie the Pooh: "Pooh Bear" • "'Cause It's Make Believe" • "The Floating Song" • "Nothing's Too Good for a Friend" • "Under the Bed" • "I Don't Have A Name" • "King of the Beasties" • "The End" • "Pirates is What We'll Be" • "Tigger, the Private Ear is Here"
The Book of Pooh: "Everyone Knows He's Winnie the Pooh" • "Your Best Wishes" • "On the Double" • "Who is Me" • "Think, Think, Think" • "What Piglets Are" • "I Watch for Signs" • "We're Making a Cake" • "If I Could Be Big" • "Isn't that Funny?" • "Find the X" • "Everyone Wants a Valentine" • "That's What We Do" • "Keep it Simple" • "Have You Got a Book For Me?" • "Give It a Try" • "On Your Way Back Home" • "Nightmare Wranglers" • "Carry On" • "Where Do Words Go?" • "Under a Spelling Bee's Spell" • "Adventure" • "Mental Altitude" • "I Want to Know Everything Now" • "Happy Tailiversary" • "Get Growin'" • "Tigger's Lullaby" • "Perfect Party" • "If We Were Talkin'" • "Someone New to Meet" • "My Hero" • "I Want To Be Scary" • "Broken Friendships" • "Do the Roo" • "Call Me Buck-a-Roo" • "At Chez Piglet" • "Nothing Ever Happens" • "Too Much Honey" • "Lost in a Book" • "Goodbye for Now"
My Friends Tigger and Pooh: "A Few Simple Rules" • "Bouncin'" • "The Grass is Greenier" • "The Password Song" • "Underneath the Same Sky" • "One Big Happy Family" • "Think, Think, Think" • "The Question Song" • "Floating in a Cloud" • "Different Can Be Good" • "The Little Things You Do" • "Christmas Comes Tomorrow" • "Time to Go (On a Trek Through the Snow)" • "Snowman Song"
Miscellaneous: "Luv-a-bye"
v - e - d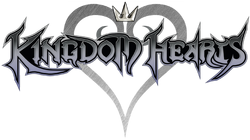 Characters
Main Characters: Sora • Riku • Kairi • King Mickey • Donald Duck • Goofy • Roxas • Axel/Lea • Naminé • Xion • Aqua • Terra • Ventus


Villains: Xehanort • Ansem • Xemnas • Maleficent • Pete • Vanitas • Xigbar/Braig • Xaldin • Vexen • Lexaeus • Zexion • Saïx/Isa • Demyx • Luxord • Marluxia • Larxene • Terra-Xehanort • Young Xehanort • Xehanort's Guardian
Other Characters: Jiminy Cricket • Ansem the Wise/DiZ • Yen Sid • Master Eraqus • Dilan • Even • Aeleus • Ienzo • Lingering Will • Hayner • Pence • Olette • Kairi's Grandma • Riku Replica • Jiminy's Journal • Foretellers • Master of Masters • Luxu • Ephemer • Skuld • Chirithy
Original Monsters: Heartless • Nobodies • Unversed • Dream Eater
Disney Characters and Villains: Queen Minnie • Daisy Duck • Pluto • Chip and Dale • Scrooge McDuck • Huey, Dewey, and Louie • Horace Horsecollar • Clarabelle Cow • Clara Cluck • Merlin • Alice • White Rabbit • Doorknob • Cheshire Cat • Queen of Hearts • Card Soldiers • Mad Hatter • March Hare • Tarzan • Jane Porter • Clayton • Terk • Kerchak • Kala • Sabor • Hercules • Philoctetes • Pegasus • Megara • Hades • Pain and Panic • Cerberus • Titans • Hydra • Zeus • Aladdin • Abu • Jasmine • Genie • Carpet • Jafar • Iago • Peddler • Sultan • Razoul • Royal Guards • Cave of Wonders • Ariel • Flounder • Sebastian • Ursula • King Triton • Prince Eric • Flotsam and Jetsam • Attina • Andrina • Glut • Pinocchio • Geppetto • Blue Fairy • Monstro • Cleo • Jack Skellington • Zero • Sally • Oogie Boogie • Lock, Shock, and Barrel • Dr. Finkelstein • Mayor of Halloween Town • Santa Claus • Skeletal Reindeer • Peter Pan • Tinker Bell • Captain Hook • Mr. Smee • Wendy • Lost Boys • Crocodile • Magic Brooms • Chernabog • Chernabog's Minions • Winnie the Pooh • Tigger • Piglet • Eeyore • Rabbit • Owl • Kanga • Roo • Gopher • Lumpy • Pongo • Perdita • Dalmatian Puppies • Dumbo • Bambi • Mulan • Mushu • Li Shang • Shan Yu • Hayabusa • Yao, Ling, and Chien Po • The Emperor • Belle • Beast • Lumiere • Cogsworth • Mrs Potts • Chip • Wardrobe • Maurice • Gaston • Jack Sparrow • Elizabeth Swann • Will Turner • Captain Barbossa • Gibbs • Tia Dalma • Davy Jones • Kraken • Jacoby • Cursed Crew • Simba • Timon • Pumbaa • Nala • Rafiki • Scar • Shenzi, Banzai, and Ed • Mufasa • Kiara • Pridelanders • Hyenas • Tron • Master Control Program • Commander Sark • Chicken Little • Flora, Fauna, and Merryweather • Aurora • Prince Phillip • Maleficent's Raven • Maleficent's Goons • Samson • Snow White • Doc • Grumpy • Happy • Sleepy • Bashful • Sneezy • Dopey • The Prince • Evil Queen • Magic Mirror • Cinderella • Prince Charming • Fairy Godmother • Jaq • Lady Tremaine • Anastasia • Drizella • Lucifer • Grand Duke • Stitch • Grand Councilwoman • Captain Gantu • Jumba • Experiment 221 • Quasimodo • Esmeralda • Phoebus • Judge Claude Frollo • Victor, Hugo, and Laverne • Kevin Flynn • Sam Flynn • Quorra • CLU • Rinzler • Black Guards • Beagle Boys • Julius • Woody • Buzz Lightyear • Rex • Hamm • Sarge • Green Army Men • Little Green Men • Sulley • Mike Wazowski • Boo • Randall Boggs • Rapunzel • Flynn Rider • Pascal • Maximus • Mother Gothel • Wreck-It Ralph • Anna • Elsa • Kristoff • Olaf • Sven • Marshmallow • Remy • Hiro Hamada • Baymax • Go Go Tomago • Honey Lemon • Wasabi • Fred
Square Enix Characters: Leon • Cloud • Moogle • Others
v - e - d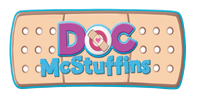 Episodes
Season One: "Knight Time/A Bad Case of the Pricklethorns" • "Out of the Box/Run Down Race Car" • "Tea Party Tantrum/Blast Off!" • "Engine Nine, Feelin' Fine!/The Right Stuff" • "Gulpy, Gulpy Gators!/One Note Wonder" • "Arcade Escapade/Starry Starry Night" • "Ben/Anna Split!/That's Just Claw-ful" • "A Good Case of the Hiccups/Stuck Up" • "Rescue Ronda, Ready for Take-off/All Washed Up" • "The New Girl/Wrap It Up" • "Rest Your Rotors, Ronda/Keep on Truckin'" • "Blame it on the Rain/Busted Boomer" • "Dark Knight/Hallie Gets an Earful" • "Break Dancer/Bubble Monkey" • "Out in the Wild/A Whale of a Time" • "The Rip Heard Round the World/Walkie Talkie Time" • "Un-Bur-Able/Righty-On-Lefty" • "Hallie's Happy Birthday/Shark Style Toothache" • "Awesome Possums/The Bunny Blues" • "Get Set to Get Wet/Loud Louie" • "Caught Blue-Handed/To Squeak, or Not to Squeak" • "Doctoring the Doc/Hot Pursuit" • "Boo-Hoo to You/It's Glow Time" • "Chilly Gets Chilly/Through the Reading Glasses" • "My Huggy Valentine/Dusty Bear" • "Bronto Boo-Boos/Brontosaurus Breath"


Season Two: "Doc McStuffins Goes McMobile/Chip Off the Ol' Box" • "Awesome Guy's Awesome Arm/Lamb in a Jam" • "Diagnosis Not Even Close-Is/Bronty's Twisted Tail" • "Frida Fairy Flies Again/A Tale of Two Dragons" • "Think Pink/You Foose, You Lose" • "Leilani's Luau/Karate Kangaroos" • "Doc to the Rescue/Don't Knock the Noggin" • "Disco Dress Up Daisy/The Glider Brothers" • "Kirby and the King/Bubble Monkey, Blow Your Nose!" • "Professor Pancake/You Crack Me Up" • "A Very McStuffins Christmas" • "The Doctor Will See You Now/Lil' Egghead Feels the Heat" • "The Big Sleepover/No Sweetah Cheetah" • "Big Head Hallie/Peaches Pie, Take a Bath!" • "Celestial Celeste/Run Doc Run!" • "A Fairy Big Knot/Rosie the Rescuer" • "Crikey! It's Wildlife Will!/Rootin' Tootin' Southwest Sal" • "Take Your Doc to Work Day/Blazer's Bike" • "The Big Storm/Spritzy Mitzi" • "Dad's Favorite Toy/Chilly and the Dude" • "Sir Kirby and the Plucky Princess/Serpent Sam Makes a Splash" • "The Wicked King and the Mean Queen/Take a Stroll" • "Oooey Gablooey Springs a Leak/There's a King in Your Tummy!" • "Doc's Busy Day/Wrong Side of the Law" • "Mirror, Mirror on My Penguin/Hide and Eek!" • "McStuffins School of Medicine/The Super Amazing Ultra Hoppers" • "Let the Nightingale Sing" • "Hazel Has a Sleepover/My Breakfast with Bronty" • "Training Army Al/Sproingo Boingo Takes a Leap" • "Shell Shy/Commander No" • "The Flimsy Grumpy Bat/Rockstar Ruby and the Toys" • "A Day Without Cuddles!/Collide-o-scope" • "Crash Course/Luna on the Moon-a" • "Fully in Focus/Picky Nikki" • "Getting to the Heart of Things/Toy in the Sun"
Season Three: "A Big Pain in Teddy's Tummy/Slip N' Slide" • "Itty Bitty Bess Takes Flight/Boxed In" • "Top Lamb/Molly Molly Mouthful" • "Doc's Dream Team/Filling Chilly" • "Fetchin' Findo/Twin Tweaks" • "A Dragon's Best Friend" • "Take Your Pet to the Vet/Master and Commander" • "Stuffy and Squibbles/Queen of Thrones" • "Three Goats A'Cuddlin'/Swimmer's Belly" • "Huggable Hallie/Pop-Up Paulo" • "Nurse's Office/A Case of the Glitters" • "Doc McStuffins Goes to Washington/Winded Winnie" • "Hallie Halloween/Don't Fence Me In" • "Demitri the Dazzling!/Smitten With a Kitten" • "The Search for Squibbles/Factory Fabulous" • "Lambie Gets the Linties/Moo-Moo's Tutu Boo-Boo" • "The New Nurse/Chilly's Loose Button" • "Say It Again, Sadie/Mind Over Matter" • "Snowy Gablooey/Goooooal!" • "Space Buddies Forever!/Liv Long and Pawsper" • "Kirby's Derby/Ticklish Truck" • "Blast Off to the Unknown!/Bust a Move" • "Baby McStuffins/Selfless Snowman" • "St. Patrick's Day Dilemma/A Giant Save" • "Runaway Love/Tour De McStuffins" • "Hooty's Duty/A Cure for a King" • "Bringing Home Baby" • "Baby Names" / "Night Night, Lala" • "The Lady in the Lake/Black Belt Kangaroos" • "Joni the Pony/Sleepless in Stuffyland" • "The Scrapiest Dragon/Going for Broke"
Season Four: "Toy Hospital: Welcome to McStuffinsville" • "Toy Hospital: First Day of Med School/Stuffy Gets His Scrubs" • "Toy Hospital: Night Shift/Cheek-Up Chilly" • "Toy Hospital: Project Nursery Makeover/Stuffy's Ambulance Ride" • "Toy Hospital: Made to Be a Nurse/Rescue at the Ranch" • "CeCe's First Bath/The Most Impatient Patient" • "Chilly's Snow Globe Shakeup/Hoarse Hallie" • "A Lesson in Diagnosis/Karaoke Katie's Opening Night" • "Nikki's Night in the E.R./Royal Buddies" • "Bouncy House Boo Boos/The Best Therapy Pet Yet" • "Toy Hospital: The Mayor's Speech/The Lake Monster" • "Toy Hospital: Chuck Learns to Look!/Birthday Party Emergency" • "Toy Hospital: Camille Gets Over the Hump/Willow's Wonky Whiskers" • "Into the Hundred Acre Wood! • "Toy Hospital: Mole Money, Mole Problems/Yip, Yip, Boom! • "Toy Hospital: Get-Well Gus Gets Well/Triceratops Trouble" • "Hannah the Brave/Waddly's Huggy Overload"