This article is about the character in Morris the Midget Moose. For the major antagonist in The Good Dinosaur, see Thunderclap (The Good Dinosaur).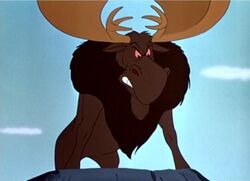 Thunderclap is the main antagonist of the animated short, Morris the Midget Moose. He is a wild moose who has a reputation for being the toughest of all moose in the forest with a desire to challenge other moose into battle. He does not hesitate to deliver fights, and every time he wins, he laughs sinisterly at the loser. He is eventually beaten by Morris and Balsam (disguised as a monster), and he runs away scared forever.
Gallery
Ad blocker interference detected!
Wikia is a free-to-use site that makes money from advertising. We have a modified experience for viewers using ad blockers

Wikia is not accessible if you've made further modifications. Remove the custom ad blocker rule(s) and the page will load as expected.