Thumbelina is a small girl that lives in the Fairy Tale Forest. She babysat Goldie and Bear while Mr. and Mrs. Bear were out for the evening. Everyday is an adventure for this small girl. While babysitting, she fell down the sink and nearly fell over a waterfall. She has a big sense of humor as she tricked Goldie and Bear with a thimble of milk and a single raisin. She loves building pillow forts and playing games like checkers. She is friends with a crow named Larry.
Gallery
v - e - d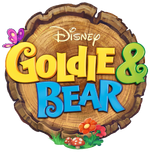 Episodes
Season One: "Fee Fi Fo Shoe" • "Little Gold Riding Hood" • "The Birthday Chair" • "Big Bear" • "Bear's Big Red Shows" • "Goose Sitters" • "Moon Jump" • "The Big Good Wolf" • "The Egg" • "Golden Kickball" • "Too Much Jack & Jill" • "Tiny Tale" • "Abraca Cabbage" • "Furry Godmother" • "Pinocchio-itis" • "The Clubhouse That Jack Built" • "Suddenly Spots" • "A Fish Tale" • "All the King's Men" • "Cheshire Goldie" • "The Troll Tamer" • "The Froggiest Prince of All" • "Bear Who Would Be King" • "When the Gnome is Away" • "Training of the Broom" • "Hickory Dickory Brian" • "Giant Among Us" • "Fetch Skippy Fetch"
Songs
Theme Song • Bein' Nice Is Easy • We Won't Let You Down • Dancing Shoes • We Wanna Be Like You • Playin' With You • The Jacks Club • Big Wide World • We Think • Over The Moon • Magic Dancing Feet • The Perfect Gift • Fishing With Me • Invisible Tango • Prince Charming • Easy to be King • Chores • Training A Broom • Bad Luck Mouse • The Life of a Prince • Tooth Fairy • Home • Things In Common
Ad blocker interference detected!
Wikia is a free-to-use site that makes money from advertising. We have a modified experience for viewers using ad blockers

Wikia is not accessible if you've made further modifications. Remove the custom ad blocker rule(s) and the page will load as expected.