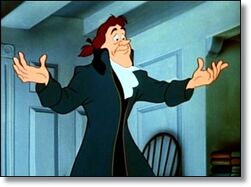 Thomas Jefferson
, the third President of the
United States
of America, has been featured in the
1953
Disney animated short,
Ben and Me
. He was voiced by
Hans Conried
. He was mentioned in
The Swap
.
Appearances
Thomas Jefferson appeared in the Schoolhouse Rock! songs "Fireworks" and "Elbow Room".
Jefferson appeared as one of the four heads on Mount Rushmore in The Muppet Show: Sex and Violence (performed by Jerry Nelson), a National Wildlife Federation PSA ad, and Muppets Tonight. Kermit appeared as Jefferson in I Love Liberty. In the premiere "Great Moments in Elvis History" segment from Muppets Tonight episode 101, an Elvis appears as Jefferson.
Gallery
Ad blocker interference detected!
Wikia is a free-to-use site that makes money from advertising. We have a modified experience for viewers using ad blockers

Wikia is not accessible if you've made further modifications. Remove the custom ad blocker rule(s) and the page will load as expected.