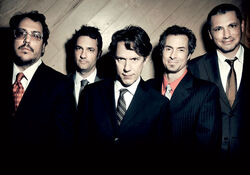 They Might Be Giants is a American rock band formed in 1982. Their members are John Flansburgh, John Linnell, Marty Beller, Dan Miller and Danny Weinkauf. Although their music originally was aimed strictly at adults, their current music is aimed at people of all ages.
For Disney, they contributed the song "So to Be One of Us" for the soundtrack of Return to Neverland, the song "You Are Old, Father William" for the soundtrack of the 2010 film Alice in Wonderland, the song "Through Being Cool" for the soundtrack of the film Sky High, and the themes songs of Higglytown Heroes and Mickey Mouse Clubhouse. They also covered the the Main Street Electrical Parade for the CD, "Disney Mania 2".
Ad blocker interference detected!
Wikia is a free-to-use site that makes money from advertising. We have a modified experience for viewers using ad blockers

Wikia is not accessible if you've made further modifications. Remove the custom ad blocker rule(s) and the page will load as expected.