Ad blocker interference detected!
Wikia is a free-to-use site that makes money from advertising. We have a modified experience for viewers using ad blockers

Wikia is not accessible if you've made further modifications. Remove the custom ad blocker rule(s) and the page will load as expected.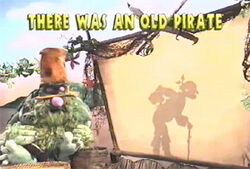 "There Was an Old Pirate" is a variant of "I Know an Old Lady," performed by Mad Monty in the Muppet Treasure Island sing along video.
Illustrated with shadow puppetry, the song deals with a pirate who, like the old lady, swallowed a fly. However, the pirate swallows such items as a fish, shark, and harpoon. Rather than dying, he finally consumes bicarbonate of soda, and burps up all of the preceding items