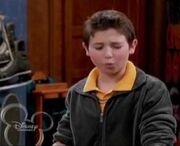 Theo Cavenaugh
is a minor character who made an appearance in a single episode of
The Suite Life of Zack & Cody
. He is very rich but insulting. His only appearance is in the episode, "Kept Man".
Story
Theo is a young, rich boy who likes Zack but dislikes Cody for his geeky personality. He keeps Zack as a friend by buying him expensive things, such as tickets to a concert, and forcing Zack to leave Cody behind. But when he sets Zack up to tape the concert illegally, Zack begins to have second thoughts about their friendship, and leaves, giving Theo back all the items he received.
Personality
Theo acts a lot like London does to Maddie, though he displays this meanness toward Cody instead. Unlike London, however, he has no problem sharing his wealth, particularly with Zack.
Ad blocker interference detected!
Wikia is a free-to-use site that makes money from advertising. We have a modified experience for viewers using ad blockers

Wikia is not accessible if you've made further modifications. Remove the custom ad blocker rule(s) and the page will load as expected.