Ad blocker interference detected!
Wikia is a free-to-use site that makes money from advertising. We have a modified experience for viewers using ad blockers

Wikia is not accessible if you've made further modifications. Remove the custom ad blocker rule(s) and the page will load as expected.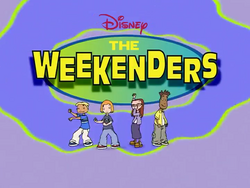 The following is a list of episodes of The Weekenders, listed in the order they originally aired.
The first three seasons all aired on ABC as part of Disney's One Saturday Morning. The last season's episodes all aired on Toon Disney.
Season 1 (2000)
Season 2 (2000-2001)
No. in
Series
No. in
season
First segment
Second segment
Airdate
09
01
"Radio Drama"
"The Tradition"
September 9, 2000
10
02
"To Each His Own"
"Diary"
September 16, 2000
11
03
"The Invited"
"Real Fake"
September 23, 2000
12
04
"Super Kids"
"Crevasse of Dreams"
November 4, 2000
13
05
"Dixon"
November 11, 2000
14
06
"Taking Sides"
"To Tish"
January 13, 2001
15
07
"Tickets"
"Vengeance"
January 27, 2001
16
08
"Murph"
"Uncool World"
February 3, 2001
17
09
"My Punky Valentine"
"Brain Envy"
February 10, 2001
18
10
"Tish's Hair"
"I Want to Be Alone!"
February 17, 2001
19
11
"Baskets for Bucks"
"Pru"
March 3, 2001
20
12
"Talent Show"
"Relative Boredom"
March 10, 2001
21
13
"New Friends"
"The Awful Weekend"
March 17, 2001
Season 3 (2000-2001)
No. in
Series
No. in
season
First segment
Second segment
Airdate
22
01
"Crushin' Roulette"
"Lucky Shoes"
September 9, 2001
23
02
"Cry"
"The Perfect Son"
September 16, 2001
24
03
"Listen Up"
"Never Say Diorama"
September 23, 2001
25
04
"Secret Admirer"
"The Lone Wolves Club"
September 30, 2001
26
05
"The Most Dangerous Weekend"
"Charity Case"
October 7, 2001
27
06
"Best"
"Broken"
October 14, 2001
28
07
"Father's Day"
"Follow the Leader"
October 21, 2001
29
08
"Careers"
"Tutor"
October 28, 2001
30
09
"The Tao of Bluke"
"An Experimental Weekend"
November 4, 2001
31
10
"Celebrity"
November 11, 2001
32
11
"Clown"
"Testing Dixon"
November 18, 2001
33
12
"Croquembouche"
"Imperfection"
November 25, 2001
34
13
"The Worst Holiday Ever"
December 2, 2001
Season 4 (2002-2004)