The Walt Disney Fiftieth Anniversary Film Retrospective
Comments

0
Share
Ad blocker interference detected!
Wikia is a free-to-use site that makes money from advertising. We have a modified experience for viewers using ad blockers

Wikia is not accessible if you've made further modifications. Remove the custom ad blocker rule(s) and the page will load as expected.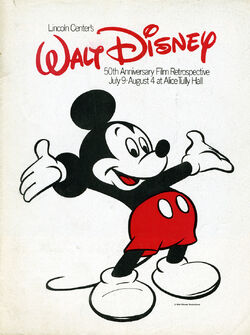 The Walt Disney Fiftieth Anniversary Film Retrospective is a retrospective event housed by the New York Public Library for the Performing Arts in Lincoln Center. The event was open from July 9, 1973 to August 4, 1973. Celebrating the 50th anniversary of The Walt Disney Company, the event features screenings of classic Disney animated and live-action movies and animated shorts.
Screenings
Alice Tully Hall
Monday, July 9, 1973
Tuesday, July 10, 1973
Wednesday, July 11, 1973
Thursday, July 12, 1973
Friday, July 13, 1973
Saturday, July 14, 1973
Monday, July 16, 1973
Tuesday, July 17, 1973
Wednesday, July 18, 1973
Thursday, July 19, 1973
Friday, July 20, 1973
Saturday, July 21, 1973
Monday, July 23, 1973
Tuesday, July 24, 1973
Wednesday, July 25, 1973
Thursday, July 26, 1973
Friday, July 27, 1973
Saturday, July 28, 1973
Monday, July 30, 1973
Tuesday, July 31, 1973
Wednesday, August 1, 1973
Thursday, August 2, 1973
Friday, August 3, 1973
Saturday, August 4, 1973
New York Public Library at Lincoln Center/Auditorium
Monday, July 16, 1973
3:00pm - The Silent Years
Tuesday, July 17, 1973
Wednesday, July 18, 1973
10:00am and 2:00pm - The Art of Animation
Thursday, July 19, 1973
10:00am and 2:00pm - The Art of Animation
Friday, July 20, 1973
10:00am and 2:00pm - The Art of Animation
Saturday, July 21, 1973
Monday, July 23, 1973
3:00pm - Disney & Industry
Tuesday, July 24, 1973
3:00pm - Disney & Animation
Wednesday, July 25, 1973
3:00pm - Disney & Television
Thursday, July 26, 1973
Friday, July 27, 1973
Saturday, July 28, 1973
3:00pm - 50 Happy Years (1923-1973)
Gallery