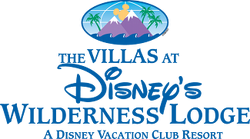 The Villas at Disney's Wilderness Lodge is a Disney Vacation Club Timeshare resort at the Walt Disney World. Announced in June 1998, the property first accepted guests in June 1998. The Villas at Disney's Wilderness Lodge are adjacent to Disney's Wilderness Lodge, whose design is based on the National Park lodges of America's Pacific Northwest. The Vacation Club Villas are themed to the antecedent lodgings built by workers on the transcontinental railroad in the late 19th century, and contain an array of railroad memorabilia and artwork. The accommodations include Studio units with a kitchenette, as well as one and two-bedroom villas with a larger kitchen and living space.
Dining
The adjacent Wilderness Lodge is home to one of Disney's signature restaurants, Artists Point, which serves dinner daily with Pacific Northwest-inspired cuisine. Also located within the shared lobby is the Whispering Canyon Cafe, which serves all three meals daily. The Roaring Forks Snacks is a counter service restaurant located near the Wilderness Lodge pool area.
Activities and recreation
The Wilderness Lodge is based on an outdoor theme and has many different outdoor activities in conjunction with the Villas. There are two pools, the Silver Creek Springs and the Hidden Springs. Both offer "geyser" jets. There are also two spas on the property. Erupting every half hour near the Silver Creek Springs is the Disney-created Fire Rock Geyser, based on the famous Old Faithful.
A kid's play area called the Cub's Den is located on the property, which allows children from ages 4–12. A game room called the Buttons and Bell Arcade contains an assortment of video games and pinball machines. This arcade can be found by the Wilderness Lodge Mercantile. Other activities on site include the white sand beach, Bay Lake, Sturdy Branches Health Club, a children's playground, watercraft rentals, catch-and-release fishing, in-room video rentals, and a mile-around jogging and bike trail.
Transportation
Transportation off the property is available. Boats or buses can take visitors to the Magic Kingdom. Bus service takes visitors to Typhoon Lagoon, Downtown Disney, Hollywood Studios, Fort Wilderness, Animal Kingdom, Epcot, and the transportation center linking to other destinations. A boat can also take visitors to the Contemporary Resort where the Monorail system is available for transport.
External links