Ad blocker interference detected!
Wikia is a free-to-use site that makes money from advertising. We have a modified experience for viewers using ad blockers

Wikia is not accessible if you've made further modifications. Remove the custom ad blocker rule(s) and the page will load as expected.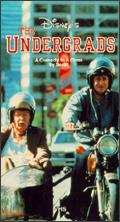 The Undergrads is a 1985 television film that originally aired as a Disney Channel Premiere Film on the Disney Channel on April 1, 1985. The film was directed by Steven Hilliard Stern and written by Paul W. Shapiro and Michael Weisman.
Synopsis
An elderly man discovers that his son wants to put him in an old-age home. However, the old man's grandson refuses to allow it, and the man and his grandson wind up becoming roommates at the boy's college dorm. After Mel Adler's apartment burns down his son, who harbors some ill will towards him tries to put him in a retirement home. He's also very hard on his son, Jody. He's telling him which college he should go to. But when he decides to go where he wants, Mel decides to join him. And when he gets there he clashes with some of the teachers and finds himself attracted to one of them. Eventually he learns that he might flunk out so he tries to cram so he can pass.
Cast
Art Carney ... Mel Adler
Chris Makepeace ... Dennis `Jody' Adler
Len Birman ... Verne Adler
Dawn Greenhalgh ... Ellen Adler
Lesleh Donaldson ... Kim Barrett
Jackie Burroughs ... Nancy Galik
Alfie Scopp ... Hobo
Angela Fusco ... Carol
Nerene Virgin ... Polly Harris
Adam Ludwig ... Prof. Sickmier
Ron James ... David Finnegan
Peter Spence ... Steve Holmes
Wendy Bushell ... Karen
Gary Farmer ... Castro
Gallery