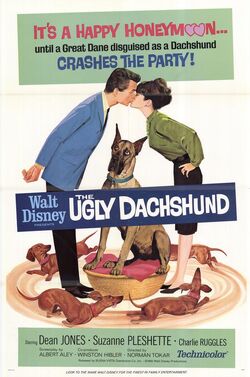 The Ugly Dachshund
is a
1966
Walt Disney Productions feature film starring
Dean Jones
and
Suzanne Pleshette
in a story about a Great Dane who believes he's a dachshund. Based on a
1938
novel by Gladys Bronwyn Stern, it was written by Albert Aley and directed by Norman Tokar. It was one of several light-hearted comedies produced by the Disney Studios during the 1960s
Plot
Dean Jones and Suzanne Pleshette star in this Walt Disney family comedy as Mark and Fran Garrison, a dog-loving couple with different tastes in canines. The story begins with their dachshund, Danke, giving birth to 3 puppies. One day, gentle veterinarian, Dr. Pruitt convinces Mark to take a runt Great Dane puppy home with him as a gift. His Great Dane that same day had a large litter of puppies and didn't have enough milk for all of them. Mark agrees and The Great Dane, named Brutus, grows up with the tiny pups; convinced that he's also a dachshund. Brutus' confused identity sets the stage for a number of mildly comic bits lead by the mischievous dachshunds--he chases a policeman up a tree, destroys Mark's studio with paint splattered, and ruins a garden party in a topsy-turvy way. Fran finally tells Mark that Brutus has to go, but changes her mind when Brutus saves Fran's favorite dachshund puppy, Chloe, from a scrap heap. Mark and Fran enter their dogs in a dog show with Brutus meeting others of his breed. He notices a female Great Dane and stands at attention. He goes on to win two blue ribbons. Brutus finally finds out what its like to be a Great Dane.
Cast
Production Credits
Director - Norman Tokar
Producer - Walt Disney
Co-producer - Winston Hibler
Set Designer - Frank R. McKelvey
Costume Designer - Chuck Keehne
Art Director - Marvin Aubrey Davis
Costume Designer - Gertrude Casey
Makeup - Pat McNalley
Consultant/advisor - Glenn H. Randall, Jr.
First Assistant Director - Tom Leetch
Trivia
The title references the literary fairy tale, The Ugly Duckling.

Both animals were being raised by a different species.
They were neglected by their respective foster family.
They discovered who their species really are.
Gallery