Ad blocker interference detected!
Wikia is a free-to-use site that makes money from advertising. We have a modified experience for viewers using ad blockers

Wikia is not accessible if you've made further modifications. Remove the custom ad blocker rule(s) and the page will load as expected.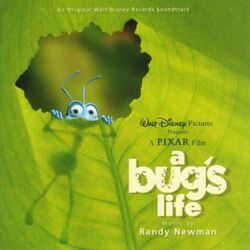 "
The Time of Your Life
" is a song from the
1998
film
A Bug's Life
, written and performed by
Randy Newman
. It is featured during the end credits of the film.
Lyrics
Was a bug, little bug, hardly there
How he felt, what he dreamed, who could care?
Without any evidence
(His flaws were many)
He was full of confidence
(Some people haven't any)
Didn't have much common sense
(It's highly over-rated)
He just knew that he'd come through
It's the time of your life so live it well
It's the time of your life so live it well

We may only go 'round one time
As far as I can tell
It's the time of your life so live it well
We may only go 'round one time
As far as I can tell
(He could be wrong about that)
It's the time of your life
It's the time of your life
It's the time of your life so live it well
It's the time of your life so live it well
It's the time of your life so live it well

We may only go 'round this one time
As far as I can tell
It's the time of your life so live it well
Like us all, he started small
Then he grew
When the time came he knew what to do
He knew in order to succeed
(They'd have to work together)
He turned a rock into a seed
(And they were changed forever)
Then they had the strength they'd need
(To get through stormy weather)
Do or die, you gotta try
It's the time of your life so live it well
It's the time of your life so live it well

We may only go 'round one time
As far as I can tell
(He could be wrong about that)
It's the time of your life so live it well
Isn't it a bit surprising
How one's fortunes ebb and flow
And only to the enterprising
Does the magic fortune cookie go
Believe me
It's the time of your life so live it well
It's the time of your life so live it well

We may only go 'round this one time
As far as I can tell
It's the time of your life
It's the time of your life
It's the time of your life so live it well