The Tigress is a character from the Timon & Pumbaa TV series who makes her first and only appearance in the episode "Doubt of Africa." She is voiced by April Winchell.
Background
Physical Description
The tigress appears to be a purple tiger with a creamy light purple chest and a pink nose. She also has lipstick and light blue eyeshadow.
Personality
The tigress is a tiger with a good heart, but she is shown to have a constant cold, as she can't stop sneezing. She is also shown to be wisecracking like Timon, as she likes telling jokes.
Role in the series
Backstory
The tigress is a tiger who lived in the African savannah. She had a husband named Ralph, who died from an unknown cause, and many children. Her husband was a good hunter and he was always the one who would bring food to the family, but due to his death, the tigress is unable to feed her children due to the fact that she can't hunt.
While Timon and Pumbaa are sleeping under a rock formation, the tigress sees them and stalks them, but then she sneezes, which wakes up Timon and Pumbaa, leading the two to run away from her. Pumbaa then finds it strange how the tigress is not chasing them, so he decides to stop. When the tigress sneezes, he gives her a leaf for her to use as a tissue.
After Timon tries to convince Pumbaa that the tigress is a predator, the tigress tells him that she has never caught anything in her life. She tells the two that her husband died and then shows them pictures of her children. After she tells about her inability to catch food, Pumbaa suggests that he and Timon teach her how to hunt so that she and her family don't die from starvation. Timon refuses to do so until Pumbaa reminds him that he owes him one after rescuing him from Shenzi, Banzai, and Ed the previous day. Timon then agrees.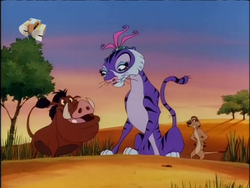 Pumbaa assists the tigress in lifting a rock to find bugs. When they see that there are no bugs, the tigress tells Pumbaa that since she's a tiger, she eats meat instead of bugs, which gets Pumbaa to wonder why they were lifting up the rock in the first place. Timon and Pumbaa then teach the tigress how to stalk their prey and they creep up on a bird. Timon finds a can labeled Bug Soda and drinks it. His belch makes the bird fly away and an elephant to take his wrath out on him.
Timon, now covered in bandages, tells the tigress that all she needs to do is pounce. He sets up a seesaw to launch her onto her meal with a large rock. It throws her into the air but she lands back on her end and launches the rock. Timon flees from the launch site to avoid more bodily harm from the rock. The rock narrowly misses him but the elephant is waiting nearby to flail Timon around.
Timon then gives up trying to help the tigress how to hunt. The tigress feels dejected and she leaves Timon and Pumbaa. Timon and Pumbaa then run into a carnivorous jackal, who chases them. Timon runs into a tree branch while Pumbaa still gets chased by the jackal, leaving the meerkat think of what to do to have his friend survive from the carnivore. He sees the tigress taking a nap and he apologizes to her and asks her for help. The tigress goes to the jackal and repeatedly sneezes on him and have him get beat up by the elephant. The jackal then runs away from the tigress and she pursues him, showing that she can now hunt.
Gallery
v - e - d
Episodes
Timon & Pumbaa
Season One: "Boara Boara" • "Saskatchewan Catch" • "Kenya Be My Friend?" • "Good Mousekeeping" • "Brazil Nuts" • "South Sea Sick/The Lion Sleeps Tonight" • "Never Everglades" • "Cooked Goose" • "Yukon Con" • "Doubt of Africa" • "How to Beat the High Costa Rica" • "Swiss Missed" • "Russia Hour" • "You Ghana Join the Club" • "Uganda Be an Elephant" • "To Kilimanjaro Bird" • "Rocky Mountain Lie" • "Amazon Quiver" • "French Fried" • "Big Top Breakfast" • "Madagascar About You" • "Truth or Zaire/Yummy, Yummy, Yummy" • "Mojave Desserted" • "Beauty and the Wildebeest" • "Don't Break the China" • "Can't Take a Yolk" • "Stand by Me" • "The Pain in Spain" • "Frantic Atlantic" • "Unlucky in Lesotho" • "Rafiki's Apprentice" • "Tanzania Zany" • "Guatemala Malarkey" • "Mombasa-In-Law" • "TV Dinner" • "Back Out in the Outback" • "Gabon with the Wind" • "Timon's Time Togo" • "The Law of the Jungle" • "Manhattan Mishap" • "Paraguay Parable" • "Be More Pacific" • "Going Uruguay" • "Let's Serengeti Out of Here" • "Congo on Like This" • "Okay Bayou?" • "Shake Your Djibouti" • "Yosemite Remedy" • "The Sky is Calling" • "Mozam-Beaked" • "Ocean Commotion"
Season Two: "Palm Beached" • "Jamaica Mistake?" • "Oregon Astray" • "New Guinea Pig" • "Isle of Manhood" • "Puttin' on the Brits" • "Klondike Con" • "Isle Find Out" • "Beetle Romania" • "Rumble in the Jungle" • "Wide Awake in Wonderland" • "Zazu's Off-by-One Day" • "Animal Barn" • "Roach Hotel" • "Africa-Dabra!" • "I Don't Bolivia" • "Shopping Mauled" • "Library Brouhaha" • "Catch Me if You Kenya" • "Scent of the South" • "Monster Massachusetts" • "Handle with Caribbean" • "Forbidden Pumbaa" • "Washington Applesauce" • "Alcatraz Mataz" • "Oahu Wahoo" • "I Think I Canada" • "Zazu's Off Day Off" • "Beast of Eden" • "Sense & Senegambia" • "Timon on the Range" • "The Man from J.U.N.G.L.E." • "Maine-Iacs" • "Fiji-Fi-Fo-Fum" • "Rome Alone" • "Amusement Bark" • "Once Upon a Timon" • "Home is Where the Hog Is" • "Beethoven's Whiff" • "Bumble in the Jungle" • "Mind Over Matterhorn"
Season Three: "Whiff" • "To Be Bee or Not to Be Bee" • "Luck Be a Meerkat" • "Just When You Thought You'd Cuisine it All" • "Lemonade Stand Off" • "Big Jungle Game" • "Boo Hoo Bouquet" • "So Sumo Me" • "Now Museum, Now You Don't" • "Visiting Pig-nitaries" • "The Truth About Kats and Hogs" • "Escape from Newark" • "Truth Be Told" • "Circus Jerks" • "Nest Best Thing" • "Super Hog-O" • "Don't Have the Vegas Idea" • "Hot Enough for Ya?" • "Werehog of London" • "Bigfoot, Littlebrain" • "Astro-Nots" • "Robin Hoodwinked" • "Seregenti Western" • "All Pets are Off" • "Two for the Zoo" • "The Swine in the Stone" • "You May Have Already Won Six Million Bakra" • "My Meteor, My Friend" • "Jungle Slickers" • "Don't Wake the Neighbear" • "Recipe for Disaster" • "Going Over-Boar'd" • "Ivy Beleaguered" • "Broadway Bound & Gagged" • "Steel Hog" • "Dealer's Choice Cut" • "Space Ham" • "You Bet Your Tukhus" • "No-Good Samaritan" • "Living in De Nile" • "One Tough Bug" • "Pirates of Pumbzance" • "Miss Perfect" • "Hakuna Matata U." • "Pig-Malion" • "Why No Rhino" • "War Hogs" • "The Big No Sleep" • "Common Scents" • "Mister Twister" • "Don't Be Elfish" • "Lights, Camera, Traction" • "The Running of the Bullies" • "Special Defects" • "Wishy Washy" • "Ice Escapades" • "Guru-Some" • "Jailhouse Shock" • "Nearly Departed" • "Early Bird Watchers" • "The Spy's the Limit" • "Ready, Aim, Fire" • "Timoncchio" • "Ghost Boosters" • "Stay Away from my Honey!" • "Sitting Pretty Awful" • "He's a Bad, Bad, Bad Sport" • "Dapper Duck Burgers" • "It Runs Good" • "Hot Air Buffoons" • "Timon in Love" • "Kahuna Potato" • "Mook Island" • "Cliphangers"
The Lion Guard
Season One: "Never Judge a Hyena by its Spots" • "The Rise of Makuu" • ""Bunga the Wise" • "Can't Wait to be Queen" • "Eye of the Beholder" • "The Kupatana Celebration" • "Fuli's New Family" • "The Search for Utamu" • "Follow That Hippo!" • "Call of the Drongo" • "Paintings and Predictions" • "The Mbali Fields Migration" • "Bunga and the King" • "The Imaginary Okapi" • "Too Many Termites" • "The Trouble With Galagos" • "Janja's New Crew" • "Baboons!" • "Beware the Zimwi" • "Lions of the Outlands" • "Never Roar Again" • "The Lost Gorillas" • "The Trail to Udugu" • "Ono's Idol" • "Beshte and the Hippo Lanes" • "Ono the Tickbird"
Season Two: "Babysitter Bunga" • "The Savannah Summit" • "The Traveling Baboon Show" • "Ono and the Egg" • "The Rise of Scar" • "Let Sleeping Crocs Lie" • "Swept Away" • "Rafiki's New Neighbors" • "Rescue in the Outlands" • "The Ukumbusho Tradition" • "The Bite of Kenge" • "Timon and Pumbaa's Christmas" • "The Morning Report" • "The Golden Zebra" • "The Little Guy" • "Divide and Conquer"