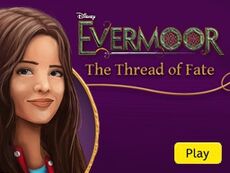 The Thread of Fate
is a game on the Disney Channel website which follows the same plotlines as the
show
. The player, as Tara, has to roam around the manor looking for special objects and completing quests. According to the website, 80% of players like the game. Here is a list of instructions on the website that you read before you play the game.
Tap the screen to direct Tara to where you'd like her to walk.
Tap on people to talk to them. They may have things to tell you and help you on your quest.
Tap sparkling items to add them to your inventory.
Each player completes 4 chapters, like the episodes in the first series of the show, and will receive a Detective Score based on their conversations. It also comes with the advice "Think carefully, Tara's fate is in your hands!" before every level.
Game Description
Help Tara unravel the mysteries of Evermoor and change her own fate!
Chapter 1
Characters Featured in the Level
(In order of appearance)
Fiona Crossley
Rob Bailey
Tara Crossley
Seb Bailey
Jake Crossley
Bella Bailey
Mayor Doyle
Ludo
Mentioned
Instructions
Direct Tara to walk up to objects and people you want to interact with. Talk to people and investigate as many objects as you can to find new tasks and clues.
Tara will make notes about her tasks and the people she meets with her laptop. Check your laptop for notifications.
Locations:
The Grand Hallway
The Kitchen
Bella's Bedroom
The Tapestry Room
Quests
Find cake knife
Help Bella unpack
Find Tara's laptop
Look for the key to the red door
Find a glass to catch the spider
Get the key from the key cupboard
Explore the tapestry room
Objects
Special objects
Cake knife
Tara's laptop
Key
Other objects
Bogvine cake
Key cupboard
Empty glass
Spider
Tapestry
Chapter 2
Characters Featured in the Level
(In order of appearance)
Fiona Crossley
Rob Bailey
Tara Crossley
Bella Bailey
Jake Crossley
Seb Bailey
Sorsha Doyle
Esmerelda Dwyer
Cameron
Mentioned
Aunt Bridget
Cameron's mother
Locations
The Tapestry room
Bella's bedroom
Kitchen
The Grand Hallway
Garden
The Path
The Beacon
Quests
Go to the beacon
Give Cameron his book and hamper back
Objects
Special objects
Cameron's book
Cameron's hamper
Typewriter
Other objects
The Tapestry
Cameron's bike
Chapter 3
Characters Featured in the Level
(In order of appearance)
Seb Bailey
Tara Crossley
Crimson
Jake Crossley
Ludo
Mayor Doyle
Cameron
Bella Bailey
Fiona Crossley
Esmerelda Dwyer
Locations
The Housekeeper's bedroom
Corridor
The Grand Hallway
Kitchen
Living room
The Tapestry room
Garden
Quests
Look for a clue in the housekeeper's room, but don't touch anything!
Find mum before she drinks Esmerelda's poisoned Bogvine tea.
Find Bella's coat, shoes and handbag.
Objects
Special objects
Crimson's diary
Bella's shoes
Bella's black coat
Bella's handbag
Other objects
Bogvine tea
Table (mentioned)
Toast (mentioned)
Tea (mentioned)
Tapestry (mentioned)
Chapter 4
Characters Featured in the Level
Cameron
Tara Crossley
Mayor Doyle
Jake Crossley
Ludo
Seb Bailey
Sorsha Doyle
Aunt Bridget
Mentioned
Locations
Kitchen
The Grand Hallway
Corridor
Garden
The Tapestry room
Secret passageway
The Beacon
Quests
Get Cameron's book and poster from Bella's coat and give them back to him
Get Jake and Ludo to catch a fly for Cameron's pet spider
Find a ladder for Jake and Ludo's new hideout in the loft
Get a glass of water for Mayor Doyle to distract him
Bring the ladder to Jake and Ludo and collect the fly
Give Cameron the fly
Find Cameron's lost spider
Find some flowers for Seb to give to Sorsha
Find Sorsha's Everine veil
Follow the spider behind the tapestry
Objects
Special objects
Bella's pink coat
Cameron's book
Cameron's poster
Ladder
Flowers
Everine veil
Other objects
Glass of water
Fly
Spider
Gallery