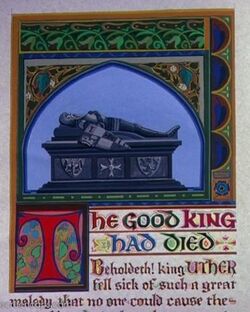 "The Sword in the Stone" is the opening song of the film of the same name. It is sung by Fred Darian.
Lyrics
A legend is sung of when England was young
And knights were brave and bold
The good king had died
And no one could decide
Who was rightful heir to the throne

It seemed that the land would be torn by a war
Or saved by a miracle alone
And that miracle appeared in London town
The sword in the stone.
Ad blocker interference detected!
Wikia is a free-to-use site that makes money from advertising. We have a modified experience for viewers using ad blockers

Wikia is not accessible if you've made further modifications. Remove the custom ad blocker rule(s) and the page will load as expected.