Ad blocker interference detected!
Wikia is a free-to-use site that makes money from advertising. We have a modified experience for viewers using ad blockers

Wikia is not accessible if you've made further modifications. Remove the custom ad blocker rule(s) and the page will load as expected.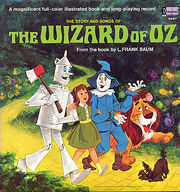 The Story and Songs of The Wizard of Oz was a 1969 album released from Disneyland Records. It featured songs from the 1939 MGM musical.
Track Listing
Over the Rainbow
Ding Dong the Witch is Dead
Follow the Yellow Brick Road
If Only I Had A Brain
Ding Dong the Witch is Dead (reprise)
In the Merry Old Land of Oz