"Even miracles take a little time."
This article features media from Disney or its subsidiaries that has yet to be released.
To prevent speculation, please add reliable sources to the unreleased media. Any information that is not backed up by citations may be removed.
Thank you!


The Silly Symphony Collection is an upcoming album that includes new remastered soundtracks to all 75 Silly Symphonies released between 1929-39. It is unknown about the release date, however preorders will start August 17. The release will coincide with two, 70-minute concerts at the D23 Expo.
Official Synopsis
The Silly Symphony Collection is a first-of-its-kind box set from Walt Disney Records and Fairfax Classics featuring the complete restored soundtracks from all 75 Silly Symphony shorts from 1929-1939, with over 8 hours of music spread over 16 vinyl LPs. The collection is housed in 8 tip-on gatefold jackets with original animation art in a beautifully constructed foil-stamped and numbered slipcase. Soundtracks of Disney classics such as "The Skeleton Dance" by Carl Stalling, "Three Little Pigs" by Frank Churchill, and Donald Duck's debut "The Wise Little Hen" by Leigh Harline will be presented in full for the first time ever on record. Each gatefold jacket includes detailed liner notes for every short by Disney historians J.B. Kaufman and Russell Merritt, authors of the definitive book on the Silly Symphonies.
Contents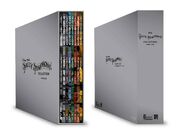 Volume 1: 1929-1930
Volume 2: 1930-1931
Volume 3: 1931-1933
Volume 4: 1933-1934
Volume 5: 1934-1935
Volume 6: 1935-1936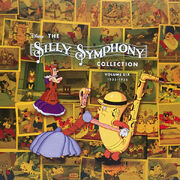 Volume 7: 1935-1937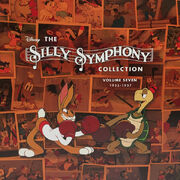 Volume 8: 1937-1939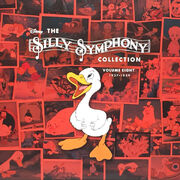 Gallery
External Links