Ad blocker interference detected!
Wikia is a free-to-use site that makes money from advertising. We have a modified experience for viewers using ad blockers

Wikia is not accessible if you've made further modifications. Remove the custom ad blocker rule(s) and the page will load as expected.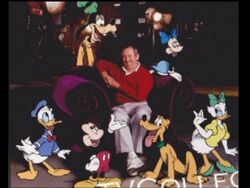 The Sensational Six is the collective name given to the group of main characters of the Mickey Mouse and Donald Duck cartoon series and franchises. They are some of the most popular and beloved Disney characters in history, being from the classic era of Disney animation. These characters include:
In products and events where Daisy is absent, the group is referred to as the Fabulous Five.
Interestingly, the original theatrical cartoon shorts never had all six characters appearing together. Mickey, Minnie, Pluto, Goofy, and Donald all appeared together in On Ice and Hawaiian Holiday, both of which preceded Daisy's introduction in Mr. Duck Steps Out (unless one counts Donna Duck from Don Donald as being the same character as Daisy).
Productions starring the Sensational Six together
Mickey Mouse Revue (animatronic show, 1971)
Walt Disney's World on Ice: 10th Anniversary (live show, 1990)
Mickey no Tokyo Disneyland Daibōken (video game, 1994)
Mickey Mouse Works (TV series, 1999-2000)
Mickey's Once Upon a Christmas (direct-to-video film, 1999)
Mickey's Racing Adventure (video game, 1999)
Mickey's Speedway USA (video game, 2000)
House of Mouse (TV series, 2001-2003)
One Man's Dream II: The Magic Lives On! (live show, 2004)
Mickey, Donald and Goofy: The Three Musketeers (direct-to-video film, 2004)
Mickey's Twice Upon a Christmas (direct-to-video film, 2004)
Mickey Mouse Clubhouse (TV series, 2006-2016)
Kinect Disneyland Adventures (video game, 2011)
Mickey Mouse (TV shorts, 2013-present)
Disney Magical World (video game, 2013)
Mickey and the Roadster Racers (TV series, 2017-present)
Gallery
See also