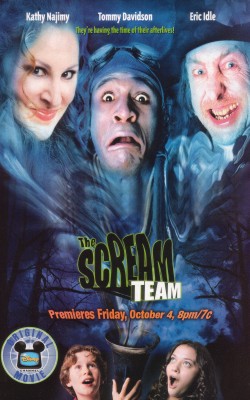 The Scream Team is a Disney Channel Original Movie. The movie was aired October 4, 2002 in the U.S.
Plot
Two children move into a town where their grandfather has just died. They later discover that a society of ghosts are searching for their grandfather's lost soul. The children decide to find the soul but then find out that an evil ghost named Zackariah Cull has stolen it. The children join forces with the Soul Patrol, a group of dead people who search for ghosts, to find the soul and destroy Zackariah. In the end they discover that Zackariah was really a misunderstood inventor whose wife was killed in a terrible accident with one of his inventions and the townspeople thinks he murdered her on purpose. He ultimately captures the Soul Patrol but the children manage to get him to stop by revealing the truth. He releases all of the trapped spirits and finally moves on. The children and their father return home to find the grandfather's spirit waiting for them having been given a couple of hours by the Soul Patrol to talk to his family. He reveals how proud he is of his son, something he never did in life and the grandfather's spirit and the dad spend a couple hours catching up before the grandfather finally moves on to the afterlife. The family decides to stay in town which is changing from bashing the formerly evil ghost to the truth about him.
Coffin Ed visits while the kids are carving pumpkins with their father. Debris passes through him and hits the door he's in front of - "You know there are some advantages to being dead."
Cast
Mark Rendall - Ian Carlyle
Kat Dennings - Claire Carlyle
Robert Bockstael - Richard Carlyle
Eric Idle - Coffin Ed
Tommy Davidson - Jumper
Kathy Najimy - Mariah
Kim Coates - Zachariah Kull
Gary Reineke - Grandpa Frank Carlyle
Nigel Bennett - Warner
Edie Inksetter - Face
Zoie Palmer - Rebecca Kull
External links
| | |
| --- | --- |
| | This page uses content from the English Wikipedia. The article or pieces of the original article was at The Scream Team. The list of authors can be seen in the page history. As with Disney Wiki, the text of Wikipedia is available under the GNU Free Documentation License. |
Ad blocker interference detected!
Wikia is a free-to-use site that makes money from advertising. We have a modified experience for viewers using ad blockers

Wikia is not accessible if you've made further modifications. Remove the custom ad blocker rule(s) and the page will load as expected.