The Scarecrow of Romney Marsh
was produced as a three-part television miniseries by
Walt Disney
in
1963
, as part of
Walt Disney's Wonderful World of Color
. It starred the late
Patrick McGoohan
of Danger Man/Secret Agent and The Prisoner fame in the title role and was directed by James Neilson. While originally conceived and edited for American television (and announced in an advertisement by
NBC
in the Tuesday,
July 9
, 1963 issue of The Hollywood Reporter), the production was re-edited for a British theatrical run before the American television debut. Titled Dr. Syn, Alias the Scarecrow, the British theatrical version was released on a double bill with The Sword in the Stone, and ran during the 1963 Christmas season (advertised in the January
1964
issue of Photoplay). This version was shown in Europe as well as Central and South America through 1966.  
In the 1970s, the production was re-edited again for its first American theatrical release, on double bills with both Snow White and the Seven Dwarfs and Treasure Island. (The VHS version of the 1980s, sharing the removal of the Scarecrow's laugh from Terry Gilkyson's title song, was expanded to include the story material from all three TV episodes, while retaining feature film structure and credits; it was available for a relatively short amount of time.) Shortly after the US theatrical run, it was re-edited yet again for a two-part presentation on Disney's television series in the 1970s, simply omitting the middle segment. The original three-part miniseries version was first shown on Disney's Wonderful World Of Color on February 9, 16 and 23, 1964, and shown again there a few times, included in a late 1980s Wonderful World of Disney syndicated rerun package, and cablecast in 1990s on the Disney Channel. This version generally followed the storyline of The Further Adventures of Dr. Syn and made it clear that Syn did not die or stage his own death: at film's end, he is having a cup of tea with the Squire, who admits to now owing a debt of gratitude to the Scarecrow.
Home video release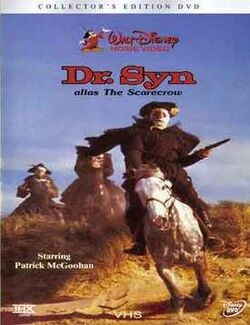 On November 11, 2008 The Walt Disney Company released a limited pressing of 39,500 issues of The Scarecrow of Romney Marsh in DVD format for the first time as a part of the Walt Disney Treasures collection, and was now called Dr. Syn: The Scarecrow of Romney Marsh. The issue sold out in three weeks, but as of February 17, 2009 the DVD was made available for members of the Disney movie club for $29.95. The two-disc set includes the American television version and the theatrical version Dr. Syn, Alias the Scarecrow in widescreen format. It also includes the original introductions by Walt Disney and a documentary on Disney's interest in the property. The Disney version was shot on location in England. The church in the movie is St Clement's Church in the village of Old Romney, which was restored by the film company.
Gallery
Ad blocker interference detected!
Wikia is a free-to-use site that makes money from advertising. We have a modified experience for viewers using ad blockers

Wikia is not accessible if you've made further modifications. Remove the custom ad blocker rule(s) and the page will load as expected.