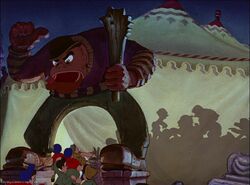 "The rough house! The rough house! It's the roughest, toughest joint you ever seen! Come in and pick a fight, boys!"
―The Roughhouse Statue
The Roughhouse Statue is an animatronic statue in front of the roughhouse on Pleasure Island in Pinocchio. He is voiced by Clarence Nash.
Trivia
Most people believe that Jack Mercer (the voice of Popeye) was the voice of the statue as it was also stated on IMDb (though that was unconfirmed). But Nash used the voice he gave the Cat Judge in the short Pluto's Judgement Day. And that Nash's voice for the Cat Judge sounds more identical to the statue then Jack Mercer's voice for Popeye.