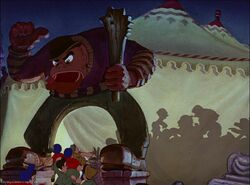 "The rough house! The rough house! It's the roughest, toughest joint you ever seen! Come in and pick a fight, boys!"
―The Roughhouse Statue
The Roughhouse Statue is an animatronic statue in front of the roughhouse on Pleasure Island in Pinocchio. He is voiced by Clarence Nash.
Ad blocker interference detected!
Wikia is a free-to-use site that makes money from advertising. We have a modified experience for viewers using ad blockers

Wikia is not accessible if you've made further modifications. Remove the custom ad blocker rule(s) and the page will load as expected.