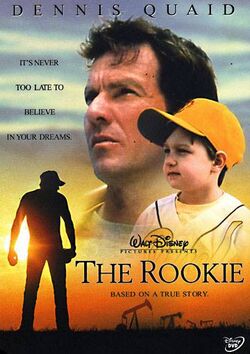 The Rookie
is a
2002
drama sports movie directed by
John Lee Hancock
. It is based on the true story of Jim Morris, who had a brief, but famous Major League Baseball career in
1999
.
Plot
Jim Morris is the son of a career Navy man, who moves the family to a small Texas town. The lack of a baseball league there for youngsters inhibits the young left-handed pitcher's progress and an injured shoulder ends any shot at a professional career.
Years later in 1999, Morris, married with three children, is a high school science teacher as well as head baseball coach. His team from Big Lake finds it impossible to hit his pitching when he throws batting practice. Hoping for some degree of mutual motivation, his struggling players offer him this agreement: if they win the district championship to reach the state playoffs, he must attend a tryout camp for Major League Baseball.
The team makes it, forcing Jimmy to keep his end of the bargain. When he does, the professional scouts discover his ability to repeatedly throw a baseball at 98 miles per hour, a feat that fewer than 10 professional baseball players at the time could accomplish.
Despite his advanced age (35), Morris is offered a chance to pitch with the Tampa Bay Devil Rays organization. He is reluctant to go, though, because of his responsibilities to his family. His father discourages Jimmy further, more or less telling him it is time to accept reality and put aside impossible dreams.
He is initially assigned to the minor league Class AA Orlando Rays but quickly moves up to the AAA Durham Bulls. Concerned for his family due to mounting bills (the pay in the minor leagues being low) and unhappy that some of the organization's younger prospects view him as a publicity stunt, Jimmy decides to give it up and come home. But his wife Lorri talks him out of it.
One day, during the September roster expansions, he is called up to the Major Leagues by the Devil Rays, thrilling his young son Hunter in particular. His proud family, including his father, and his high school players come to Arlington, Texas, to see his first game.
A brief epilogue explains that Jim Morris spent two seasons in the big leagues.
Cast
Dennis Quaid as Jim Morris
Rachel Griffiths as Lorri
Brian Cox as Jim Sr.
Angus T. Jones as Hunter
Angelo Spizzirri as Joel De La Garza (Owls catcher)
Jay Hernandez as Joaquin 'Wack' Campos
Rick Gonzalez as Rudy Bonilla (Owls pitcher)
Gallery