"The Right Size" is a song from the Johnny and the Sprites episode "The Twenty-Foot Root." It is performed by John Tartaglia as Johnny, with brief spoken bits from Heather Asch as Root. In the story, Root wishes he were bigger and ends up growing magically to 20 feet tall, but he doesn't find it to be a befitting size for him. Johnny sings the song to assure him that he's special to him no matter what size he is. It is featured as track 7 on the Johnny and the Sprites music album.
Lyrics
Johnny:
When you're feeling like you don't belong
Feeling like the size you are is wrong
Wishing you were taller
Or you had some bigger wings
Just think while you're the little one
You can have more than a little fun
Small's the perfect size to do
So many great big things

Root:
Really?

Johnny:
You bet.
It's the right size
To ride piggyback
Doesn't hurt my back, in fact
I can carry you to places near and far
Remember the right size is whatever size you are

It's the right size
To play hide-and-seek
Hide where other Sprites can't peek
And scrunch up small and never leave a clue
I promise the right size is whatever size is you

There's lots of time to grow
Be yourself and take it slow
Trust me because I know
I was little once too

Root:
You?

Johnny:
And grew

Root:
Wow.

Johnny:
You're the right size, naturally
You're who you're supposed to be
And one day soon, you're gonna realize
Your big smile and your big heart
They're the most important part
And they will always be the right size, you see
You're the right size to be friends with me.
v - e - d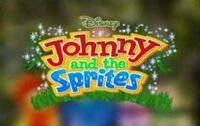 Characters
Johnny • Tina • Gwen • Ginger • Basil • Lily • Root • Sage • Seymour • Fuzzies