Ad blocker interference detected!
Wikia is a free-to-use site that makes money from advertising. We have a modified experience for viewers using ad blockers

Wikia is not accessible if you've made further modifications. Remove the custom ad blocker rule(s) and the page will load as expected.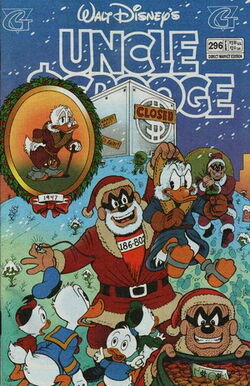 The Richest Duck in the World or The Recluse of McDuck Manor is a Scrooge McDuck comic by Don Rosa. It is the twelfth of the original 12 chapters in the series The Life and Times of Scrooge McDuck. The story takes place on the Christmas Day, 1947.
Plot
Donald and Huey, Dewey, and Louie pay Scrooge a visit in his mansion after their stay on Bear Mountain (shown by Barks in FC-178 "Christmas on Bear Mountain" from 1947). Provocated by Donald, Scrooge takes his nephews to his Money Bin to show them his fortune. Unfortunately they are followed by the Beagle Boys - led by Blackheart Beagle, all disguised as Santa Claus. After chasing and defeating eight members of the Beagle Boys, Scrooge decides to reopen his financial empire.
Trivia
It is one of the very few occasions in which Scrooge is seen wearing Toon Gloves. 
External links
| | |
| --- | --- |
| | This page uses content from the English Wikipedia. The article or pieces of the original article was at The Richest Duck in the World. The list of authors can be seen in the page history. As with Disney Wiki, the text of Wikipedia is available under the GNU Free Documentation License. |