"The Rats Who Came to Dinner" is the second segment of the seventeenth episode of the first season of The New Adventures of Winnie the Pooh. It originally aired on January 7, 1989.
Plot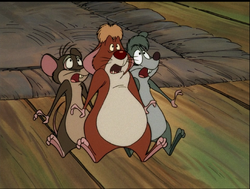 It's a stormy night in the Hundred Acre Wood and the Pack Rats are secretly stealing lots of things, putting walnuts in place of what they take. After their refuge is flooded, they go over to Pooh's house. After a brief shock, Pooh allows them to stay, but tells them they are lucky to find someone who does, since they have a reputation for stealing. The three rodents are shocked by this statement, and explain that they don't steal, they just trade.
Pooh then tells them that walnuts are nice, but that it is wrong to take other peoples' things, and that in the moment, for example, he doesn't need any walnuts, what he needs is pots to stop the leaks. Upon hearing this, the Pack Rats decide to steal pots from Rabbit and the rest of the gang, who are not very happy about it. Meanwhile, Piglet is pushing a huge Bath tub full of water. Later, Pooh further explains to the rats that it is better to give than to take, which causes the rats to give all Pooh's things to Piglet. When Pooh finds out about this, he explains that he is really sad that the rats took his things without asking, as he has been really nice to them.
With the rain still falling outside, Rabbit and the others arrive again, determined to catch the burglars. Pooh defends the Pack Rats, saying that they are not thieves, really, they're just confused. Rabbit captures the rats and opens the door, causing the water to enter and flood Pooh Bear's house. When the rain stops, the woods are still flooded. Gopher enters the gang's houses with a diving suit to discover that everybody's stuff has disappeared, and finds only walnuts. Pooh admits that maybe the rats are thieves after all. Later, the gang goes to Owl's house, the only place not flooded, only to find that the rats have saved all the gang's stuff from the flood by putting them in Owl's closet. Pooh and his friends commemorate by giving the Pack Rats a party and a big cake.
Characters