"The QPC" is the thirty-third episode of the first season of Penn Zero: Part-Time Hero. It premiered on September 28, 2015.
Synopsis
Uncle Chuck and Aunt Rose must prove that they have a heroic side after they break the QPC -- an essential part of the machine that zaps Penn back from other worlds -- before their nephew is lost forever.
Trivia
This is the first episode where Sashi, Boone, and Larry have minor non-speaking roles.
After "Larry Manor", this episode is the second to mainly be set in Middleburg.
For the first time, none of the five main characters are the focus of the episode, instead the focus being Chuck and Rose.
It is shown/revealed that Uncle Chuck and Aunt Rose actually know about Penn's job as being a part-time hero as Chuck is aware of his brother Brock's job as a hero as well.
It is revealed that Uncle Chuck and Brock Zero are brothers.

Chuck and Phil are also revealed to be on the same bowling team.
v - e - d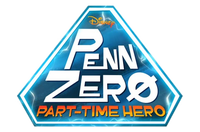 Locations
Middleburg • Middleburg Central High • The Odyssey • Fish Stick on a Stick • North Pole • Knight World • Superhero World • Arabian World • Plush Toy World • Clown World • Dinosaur Cowboy World • Cereal World • Old English World • Giant Monster World • Zombie World • Space World • Ocean World • Color World • Musical Fairy Tale World • Caveman Spy World • Future Barbarian World • Ultrahyperball World • Demon World • Alien World • Galaxy World • Temple World • Dragon World • Gothic Mystery World • Plant World • Animal Barbarian World • Toy World • Outer Space Court World • Robot World • Pirate World • Fairymania World • Steampunk World • Ball World • Ghost World • Rock, Paper, Scissor World • Beast World • Anime World • Sitcom World • Nothingness • Most Dangerous World Imaginable • Least Dangerous World Imaginable
Objects
Multi-Universe Hologram Uplink • Multi-Universe Transprojector • Pigoilet • The QPC Unit • Vortex Tops • Specs