The Proposal
Comments

0
18,950pages on
this wiki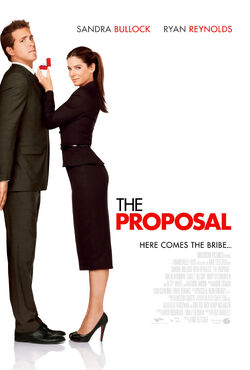 The Proposal
is a
2009
romantic comedy movie starring Ryan Reynolds and Sandra Bullock. The film is set in Sitka, Alaska. Directed by Anne Fletcher and written by Peter Chiarelli. The film was produced by Mandeville Films and released on June 19, 2009, in North America by
Touchstone Pictures
.
Development on the film began in 2005, when Chiarelli wrote the film's script. Principal filming encompassed over a period of two months from March to May 2008. Critics were polarized with The Proposal; however the interactions between Bullock and Reynolds were critically acclaimed. The film was a box office success, grossing over $317.4 million worldwide, becoming the highest grossing romantic comedy film of 2009.
Margaret Tate (Sandra Bullock) is the executive editor in chief of a book publishing company. Her subordinates dislike her because she is pushy and cold. After learning she is about to be deported to Canada because of an expired visa, she convinces her assistant, Andrew Paxton (Ryan Reynolds), to marry her. Both visit Immigration where an officer, Mr. Gilbertson (Denis O'Hare), informs them that he suspects they are committing fraud to avoid Margaret's deportation. Gilbertson tells them that they'll be asked questions about each other separately. If their answers don't match, Margaret will be deported to Canada and Andrew will be convicted of a felony punishable by a $250,000 fine and five years in prison. Andrew insists that Margaret make him an editor after their marriage and publish his book. Margaret agrees.
The couple travels to Sitka, Alaska, Andrew's home town, to meet his family. Margaret meets Andrew's mother Grace (Mary Steenburgen) and grandmother Annie a.k.a "Gammy" (Betty White). During the trip to the family home, Margaret notices that nearly every shop in town carries the name Paxton and learns that Andrew's family is in fact very wealthy. During a welcome home party, Andrew confronts his father, Joe (Craig T. Nelson), who is angry about Andrew's dating the boss he has so long disliked and thinks he is using her to get ahead in his career. After their argument, Andrew announces the engagement to everyone. Margaret also meets Gertrude (Malin Åkerman), Andrew's ex-girlfriend. After the party is over, Grace and Gammy show Margaret and Andrew the bedroom they will share during the weekend.
The next day, Grace and Annie take Margaret to a local bar to watch a strip dance by a locally famous but over-the-hill exotic dancer, Ramone (Oscar Nunez). Stepping away from the show, Margaret learns from Gertrude that Andrew wanted to become an editor and make his own life and that Andrew had proposed to Gertrude. However, Gertrude refused because she didn't want to leave Sitka for New York. Returning home, Margaret learns of the conflict between Andrew and Joe. That night, Margaret asks Andrew about his relationship with his father, but Andrew refuses to talk. In response, Margaret begins to share personal information about herself with Andrew.
The next day, the family convinces them to marry while they're in Sitka. Andrew is stressed, and Margaret tries to comfort him. After Margaret realizes how close Andrew's family is, she becomes upset, gets on Andrew's boat, and speeds away from town with him. She tells him she has been alone since she was sixteen years old after her parents died and had forgotten what it felt like to have a family. She lets go of the helm and stumbles to the back of the boat. Andrew makes a sharp turn to avoid hitting a buoy, and Margaret falls out of the boat. Andrew quickly turns the boat around and saves her. At the wedding ceremony, Margaret confesses the sham marriage to the entire assemblage, including Gilbertson, who informs her she has twenty four hours to leave for Canada. Margaret returns to the Paxton home to pack her things. Andrew rushes to their room only to find Margaret has already left, leaving his book manuscript with a note of praise and a promise to publish it. Gertrude attempts to comfort Andrew and asks if he is going to go after her. As he rushes out of the house to find Margaret, another argument arises between him and Joe. Annie fakes a heart attack and convinces them to reconcile before she "passes away". Annie admits faking the attack. Andrew's parents realize he really loves Margaret. Andrew goes to New York and tells Margaret he loves her in front of the entire office staff. They kiss and then go to Gilbertson and inform him they are again engaged, but for real this time.
Sandra Bullock as Margaret Tate, a chief editor at a major New York City book publisher.
Ryan Reynolds as Andrew Paxton, Margaret's assistant who wishes to be promoted to editor and have his book manuscript published.
Mary Steenburgen as Grace Paxton, Andrew's mother.
Craig T. Nelson as Joe Paxton, Andrew's father who owns the family business that dominates the entire town of Sitka.
Betty White as Grandma Annie "Gammy", Andrew's grandmother and Joe's mother.
Denis O'Hare as Mr. Gilbertson, the immigration agent investigating Margaret's case.
Oscar Nuñez as Ramone, a resident of Sitka who holds many jobs, including waiter, male stripper, shopkeeper, and minister.
Malin Åkerman as Gertrude, Andrew's ex-girlfriend.
Michael Mosley as Chuck, Andrew's friend.
Production
Edit
Peter Chiarelli initially wrote the script for the film in 2005. In May 2007, it was announced that Sandra Bullock had been given a lead role for The Proposal. Julia Roberts was originally approached by producers for a lead role in the film, but later declined. Nearly two months after the announcement, it was reported that negotiations were being finalized for Ryan Reynolds to star opposite to Bullock. In January 2008, Touchstone Pictures signed Anne Fletcher to direct the film It premiered on June 1, 2009 at the El Capitan Theatre in Hollywood, California.
Filming for The Proposal initiated in April 2008 in Rockport, Massachusetts. In the oncoming days leading to production, areas of the town were temporarily remodeled to represent Sitka, Alaska, the setting of most of the film. Principal photography officially began on April 9 at Bearskin Neck, where it continued over a period of 24 hours. Filming continued at the Motif Number One building on Bradley Wharf (April 14-16), the Haskins Building (April 15-18), and the central business district of Rockport (April 17). Principal photography relocated to Manchester-by-the-Sea, Massachusetts on April 22, where it resumed over an approximate period of two weeks. In response, city officials accommodated the producers by renting out all publicly owned parking lots. Filming for The Proposal was shortly delayed after Bullock and her husband were involved in a car accident. The wedding scene was filmed in a three-story twentieth century Victorian home; photography took place at the residence for three weeks. In an interview with the New York Times, the owners of the home stated that Nelson Coates knocked on their door asking for leaves. Initially, the owners directed Coates to other residences in the area; however, they eventually gave the film's producer a tour of the house. Production occurred on the first floor of the home. Outside of the Cape Ann area, filming took place in Boston, Massachusetts at the State Street Bank Building and in Lower Manhattan in New York City. The Proposal contained 350 special effect shots, and some parts were edited using computer-generated imagery. The score to The Proposal was composed by Aaron Zigman, who recorded his score with the Hollywood Studio Symphony at the Sony Scoring Stage.
As part of an extensive advertising campaign, Bullock and Reynolds discussed about taking part in the production of a nude scene. The scene was filmed in a period of three days, and took approximately twelve takes to complete. Expressing that she was initially nervous, Bullock stated in an interview with Sky News that "when everyone else acts like it's just a normal day it really helps you relax." Although she revealed that producers provided them with fig leaves, Bullock stated that they would continuously fall off. She added, "You could literally see everything." Similar sentiments were expressed by Reynolds, who in an interview with People, stated, "Filming a scene that involves being entirely naked and takes a couple days can be a little awkward." He continued: "Thankfully you're there for so long and you're doing it for so long that you dispense with the awkwardness pretty quickly and start to have mundane, normal conversations – the difference being you're not wearing pants.
| | |
| --- | --- |
| | This page uses content from the English Wikipedia. The original article was at The Proposal. The list of authors can be seen in the page history. As with DisneyWiki, the text of Wikipedia is available under the GNU Free Documentation License. |