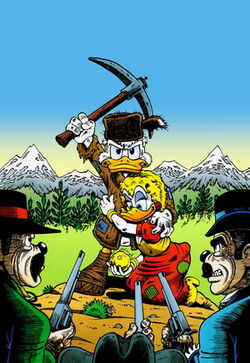 The Prisoner of White Agony Creek is a Scrooge McDuck comic by Don Rosa. The story takes place between King of the Klondike and Hearts of the Yukon in the series The Life and Times of Scrooge McDuck making it part 8B. The story shows how Goldie O'Gilt was taken to White Agony Creek. As Don Rosa announced his retirement in June 2008, this is his final story.
Plot
The story takes place in the Klondike Gold Rush. It's about Scrooge McDuck who abducts Goldie O'Gilt and takes her to White Agony Creek and forces her to dig for gold. Meanwhile Soapy Slick sends three famous lawmen, Wyatt Earp, Bat Masterson, and Judge Roy Bean, to rescue Goldie from Scrooge but it seems she doesn't want to be rescued - at least not until after she steals Scrooge's gold nugget. Butch Cassidy and Sundance Kid are also involved in this caper; they kidnap Goldie and steal Scrooge's nugget. But Scrooge eventually rescues Goldie and gets his nugget back. After that he and Goldie start to get along better near the end of the story.
Trivia
Many fans believe that Scrooge and Goldie had an affair the last night they were together in the cabin. However that is just a theory, and it has never been confirmed or denied.
External links
| | |
| --- | --- |
| | This page uses content from the English Wikipedia. The article or pieces of the original article was at The Prisoner of White Agony Creek. The list of authors can be seen in the page history. As with Disney Wiki, the text of Wikipedia is available under the GNU Free Documentation License. |