Ad blocker interference detected!
Wikia is a free-to-use site that makes money from advertising. We have a modified experience for viewers using ad blockers

Wikia is not accessible if you've made further modifications. Remove the custom ad blocker rule(s) and the page will load as expected.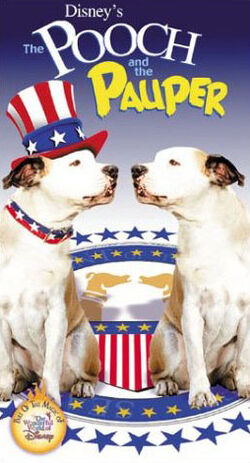 The Pooch and the Pauper is a 2000 Disney live-action film. It was originally aired on ABC as a telefilm on The Wonderful World of Disney in July 2000 and later released in Hungary on October 21, 2005 and Sweden on November 19, 2006. The film was directed by Alex Zamm and written by Mark Steilen and Bennett Yellin.
Synopsis
The bulldog Liberty (who's thoughts we're able to hear) is the "First Dog of the USA", i.e. the president's dog. As such he has a lot of representative duties, but also many privileges which made him snobby and condescending towards other dogs. But one day when the young Nataniel takes him for a walk, he's mixed up with the stray dog Moocher who looks like his identical twin. Henceforth Moocher takes Liberty's place in the White House. From now on a different spirit reigns in the White House...
Cast
Richard Karn ... Agent Dainville
Fred Willard ... President
Vincent Schiavelli ... Willy Wishbow
Cody Jones ... Nate
Carolyn Dunn ... Mary
Laura Press ... Margaret Caldwell
Peter MacNicol ... Liberty (voice)
Daryl Mitchell ... Moocher (voice)
George Wendt ... Sheldon Sparks
Brian Hunter ... Agent
Maitland Austin-Olsen ... Pickles
Helen Beavis ... Wealthy Lady Friend
Kay Caisley ... Nun
Dick Callahan ... Bus Driver
Henry Chan ... Chinese Restauranteur
Neil Crone ... Jim Corbett
Keesha Danson ... Little Girl
John DiMaggio ... Bucky
Margaret Eggleton-Kaye ... Queen Elizabeth
Paul-Emile Frappier ... Grill Cook
Kathryn Greenwood ... Kim Corbett
Kay Hawtrey ... Mrs. Schmetterlink
Jordan Hughes ... Marlin
Bruce Hunter ... Agent Marlowe
Phillip Jarrett ... Agent Abrams
Howard Jerome ... Demented Duke
Nick Johne ... Grocer
Mila Kanev ... Maid
Lara Kelly ... Lydia
J.C. Kenny ... Reporter #2
Elizabeth Lennie ... Agent Buyers
Judy Marshak ... Councilwoman Rosendorf
James Millington ... Newscaster (as Jim Millington)
Dan Redican ... Director
Adam Greydon Reid ... Bus Boy (as Adam Reid)
Stella Sprowell ... Old Lady
Joshua Tucci ... Tourist Boy
Heidi von Palleske ... Reporter #1
Petra Wildgoose ... Restaurant Girl
Kathryn Winslow ... Female Tour Guide
Nancy E.L. Ward ... Beauty Queen (uncredited)
Gallery