The Pearly Band is a group of musicians from Mary Poppins. They're all dressed up in pearl buttons and sing "Supercalifragilisticexpialidocious". A lady in a magenta dress plays the tambourine, a short man in a black suit plays the bass drum, a tall man in a black suit plays the double spoons, another short man in a black suit plays a stringy click instrument that looks like a banjo with a cymbal attached to it, and a lady in a blue dress plays the violin. Only the short man on the bass drum speaks.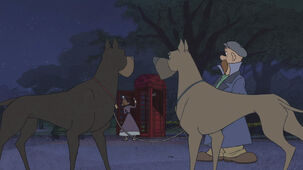 The drummer and violinists also make a cameo appearance in "101 Dalmatians II: Patch's London Adventure": the violinist in a phone booth, and the drummer walking two Great Danes, during the "Twilight Bark" Scene.
Ad blocker interference detected!
Wikia is a free-to-use site that makes money from advertising. We have a modified experience for viewers using ad blockers

Wikia is not accessible if you've made further modifications. Remove the custom ad blocker rule(s) and the page will load as expected.