The Pavilion (Traditional Chinese: 展藝館) is a "Black Box" space located in between Adventureland and Grizzly Gulch at Hong Kong Disneyland.
Summary
The outer edge of Adventureland was under construction from early May to September 2008, adjacent to Theater in the Wild. A temporary structure was built for Demon Jungle, an exclusive attraction for the 2008–2010 Halloween seasons, and transformed to The Revenge of the Headless Horseman for the 2011–2014 Halloween seasons.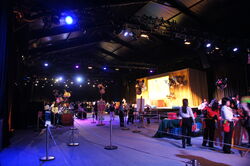 Current, it's now a flexible event venue that can cater to different scales of entertainment and shows. By incorporating world-class theatrical equipment, the venue offers amazing potential for conceiving and delivering immersive experiences. The space measures a total of 15,000 square feet and can entertain special small or large-scale events, ranging from one day to a whole seasonal period. Another advantage of the space is that new and upcoming Disney stories can be brought to life in a short time. "Frozen" Village, with a thrilling ice slide and show area offering special snow effects, all under one roof, provides a compelling example of what can be created in this flexible and creative venue.
Events
Post-The Pavilion
As The Pavilion
"Frozen" Village (June 11 to October 4, 2015)[1]

"Frozen" Festival Square
Meet Olaf

Magic Character Encounters (Magic Access Member Exclusive Nights event, April 22, 23, 29 & 30, 2016)
Unknown event (May 2016)
"Star Wars: Tomorrowland Takeover" Sneak Peek Gathering (Magic Access Members only, June 1, 2016)
"Star Wars: Tomorrowland Takeover" Launching Ceremony (June 10, 2016)

New Corporate Alliance Officiating Ceremony Between Hong Kong Disneyland Resort and Standard Chartered Bank

"YOUth Power" (July 2016)
The Nightmare Experiment (2016 Halloween season)
Pin Trading Fun Day (March 16 to 19, 2017)
References
Ad blocker interference detected!
Wikia is a free-to-use site that makes money from advertising. We have a modified experience for viewers using ad blockers

Wikia is not accessible if you've made further modifications. Remove the custom ad blocker rule(s) and the page will load as expected.