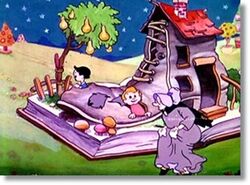 The Old Woman (Who Lived in a Shoe) is a nursery rhyme character who "had so many children she didn't know what to do." She appeared in the 1933 Silly Symphony animated short, Old King Cole.
Ad blocker interference detected!
Wikia is a free-to-use site that makes money from advertising. We have a modified experience for viewers using ad blockers

Wikia is not accessible if you've made further modifications. Remove the custom ad blocker rule(s) and the page will load as expected.