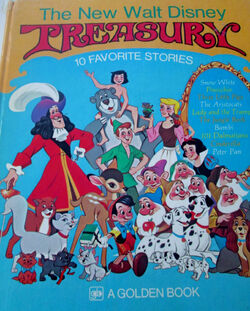 The New Walt Disney Treasury: 10 Favorite Stories is a 1971 Golden Book collection of adaptations of Disney animated films: Snow White and the Seven Dwarfs, Pinocchio, The Three Little Pigs, The AristoCats, Lady and the Tramp, The Jungle Book, Bambi, One Hundred and One Dalmatians, Cinderella and Pinocchio.
Ad blocker interference detected!
Wikia is a free-to-use site that makes money from advertising. We have a modified experience for viewers using ad blockers

Wikia is not accessible if you've made further modifications. Remove the custom ad blocker rule(s) and the page will load as expected.