The New Adventures of Spin and Marty: Suspect Behavior
Comments

0
Share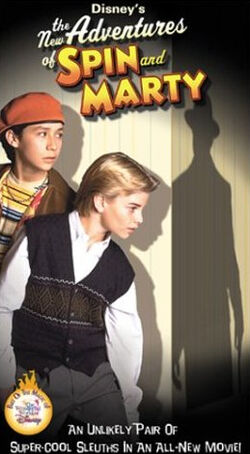 The New Adventures of Spin and Marty: Suspect Behavior is a 2000 Disney television movie based on Spin and Marty. It premiered on ABC's The Wonderful World of Disney on August 13, 2000.
Synopsis
Spin Evans absolutely must become a friend of Martin Markham if he wants to escape the camp where parents want to send. The arrival in their neighborhood new neighbors, Jack and Veronica Hulka, soon gives them the perfect opportunity to forge strong bonds of friendship. Spin and Martin are in fact convinced that immigrants are nothing less than demons: they will then stop at nothing to confuse craziness.
Cast
David Gallagher as Marty Markham
Charles Shaughnessy as Jordan Welsh
Jeremy Foley as Spin Evans
Yancy Butler as Veronica Hulka
Dan Zukovic as Gladstone
Brian Markinson as Beckwith Evans
Lynda Boyd as Stephanie Evans
Judd Nelson as Jack Hulka
Tim Considine as Mayor Considine
David Stollery as Commissioner Stollery
Tamsin Kelsey as Mrs. Markham
Brian Jensen as Mr. Markham
Richard Side as Mr. Mann
Laurie Murdoch as Minister
Michael Sunczyk as Precinct Captain
Bob Dawson as Officer Petrie
Simon Longmore as Officer Collins
Deni DeLory as Charlotte
Betty Linde as Mary
Brenda McDonald as Mary's Friend
Lauren Diewold as Little Girl
Gallery
Ad blocker interference detected!
Wikia is a free-to-use site that makes money from advertising. We have a modified experience for viewers using ad blockers

Wikia is not accessible if you've made further modifications. Remove the custom ad blocker rule(s) and the page will load as expected.