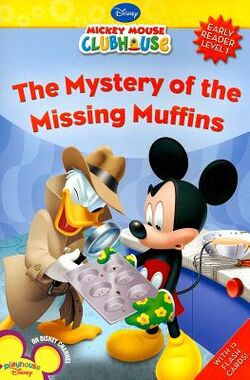 The Mystery of the Missing Muffins is a 2008 Mickey Mouse Clubhouse book.
Plot
Mickey has baked a tray of his world famous muffins and has left them in his windowsill to cool. When he returns later the muffins are gone! Detective Donald and the Clubhouse crew take on the case, and follow a series of clues to determine who or what is the mysterious muffin snatcher.
Details
Ad blocker interference detected!
Wikia is a free-to-use site that makes money from advertising. We have a modified experience for viewers using ad blockers

Wikia is not accessible if you've made further modifications. Remove the custom ad blocker rule(s) and the page will load as expected.