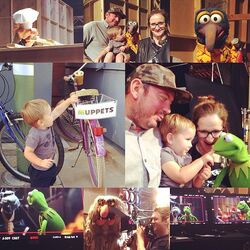 The Muppets
is a primetime television show developed by
ABC Studios
and
the Muppets Studio
. The series features the Muppet characters in a 'mockumentary'-style series that explores their lives both at home and work. The show premiered on
ABC
on
September 22
,
2015
.
In spring 2015, ABC produced a short pilot presentation for the series. Bill Prady (Miss Piggy's Hollywood, The Muppets Celebrate Jim Henson, The Big Bang Theory) and Bob Kushell (The Simpsons, 3rd Rock from the Sun) served as co-writers and as executive producers along with director Randall Einhorn (The Office, Survivor) and Muppeteer Bill Barretta.
On May 7, 2015, ABC officially announced that the series had been picked up for the fall 2015 television season.[2] The show is slated to air on Tuesdays at 8 PM Eastern (7 PM Central) starting in the fall of 2015.[3]
The show aired its final episode on March 1, 2016.
Official synopsis
"The Muppets" return to prime time with a contemporary, documentary-style show that, for the first time ever, will explore the Muppets' personal lives and relationships, both at home and at work, as well as romances, break-ups, achievements, disappointments, wants and desires; a more adult Muppet show, for kids of all ages."
Bill Prady ("The Big Bang Theory") and Bob Kushell ("Anger Management") are co-writers and executive producers. Randall Einhorn and Bill Barretta are also executive producers. "The Muppets" is produced by ABC Studios and The Muppets Studio.[4]
Presentation pilot
In spring 2015 it was first reported that ABC was developing a pilot presentation for a new television series featuring the Muppets under the working title "Muppets 2015"[5]. Descriptions of the pilot presentation stated that "The Muppets excitedly gather at ABC for a meeting about the new Muppet Show. However, the show will not move forward unless Miss Piggy signs on."[2] Early sources say the concept for the presentation pilot also features turmoil in Piggy and Kermit's relationship and includes plans for celebrity cameos — including Miss Piggy's current co-star and Fozzie's girlfriend and her parents. It has also been reported that the project is a "more adult Muppet show, for kids of all ages."[6]
According to an early project description from ABC:
"Subverting the expectations of reality TV, this mockumentary looks at the day-to-day lives of the Muppets and the mayhem that ensues as they try to get a new network series up and running. Mixing the Muppets' signature brand of nonsense with the hilarity of shows like The Comeback and Curb Your Enthusiasm, this series finally answers the question, "What happens when the Muppets go home?"[7]
On April 2, 2015, the news broke that Randall Einhorn would direct the pilot which was written by Bill Prady and Bob Kushell.[8] Prady had produced a similar 'mockumentary' pilot presentation with the Muppets in 2007 which was not picked up.
The presentation pilot filmed the week of April 12, 2015, on the Disney lot in Burbank, CA.[9]
Celebrity cameos were filmed with Elizabeth Banks[10] and Topher Grace.[11]
The pilot presentation reportedly received a standing ovation when it screened for ABC executives in May 2015.[12]
Background Muppets (non-speaking)
Ernst Stavros Grouper, penguins, Dr. Julius Strangepork, Behemoth, Pops, Beautiful Day Monster, Cynthia Rose, Thingy-Thing, Wayne and Wanda, Angel Marie, Vegetables, Beauregard, Andy and Randy Pig, Larry and Oliver, Old Tom, Zippity Zap, Babies, J.G., Link Hogthrob, Geri and the Atrics, Pokey, Cue Card Monster, Maxine, 80s Robot, Bean Bunny, Black Dog, Calico, Angelo, Thog, Inkspots
Gallery
Sources
External links
| | |
| --- | --- |
| | This page uses content from the English Wikipedia. The article or pieces of the original article was at The Muppets (TV series). The list of authors can be seen in the page history. As with Disney Wiki, the text of Wikipedia is available under the GNU Free Documentation License. |