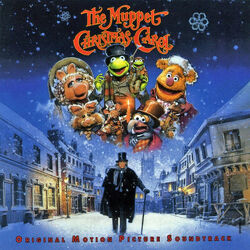 The Muppet Christmas Carol: Original Motion Picture Soundtrack was initially released in 1992 in conjunction with the film's premiere. It was reissued alongside the Disney's Kermit's anniversary edition DVD in 2005.
The album contains the original score by Miles Goodman, as well as all of Paul Williams' songs for the film, including the cut songs "Room in Your Heart" and "Chairman of the Board," which were recorded but never filmed.
Track listing
Overture
Scrooge - Cast
Room in Your Heart - Bunsen & Beaker
Good King Wenceslas - Bean Bunny
One More Sleep 'til Christmas - Kermit
Marley and Marley - Statler and Waldorf
Christmas Past - score
Chairman of the Board - Sam the Eagle
Fozziwig's Party
When Love Is Gone - Belle
It Feels Like Christmas - Ghost of Christmas Present
Christmas Scat - Kermit & Robin
Bless Us All - Robin & Cast
Christmas Future - score
Christmas Morning - score
Thankful Heart - Scrooge
Finale - When Love Is Found/It Feels Like Christmas - Cast
When Love Is Gone - Martina McBride
Other releases
Ad blocker interference detected!
Wikia is a free-to-use site that makes money from advertising. We have a modified experience for viewers using ad blockers

Wikia is not accessible if you've made further modifications. Remove the custom ad blocker rule(s) and the page will load as expected.