Ad blocker interference detected!
Wikia is a free-to-use site that makes money from advertising. We have a modified experience for viewers using ad blockers

Wikia is not accessible if you've made further modifications. Remove the custom ad blocker rule(s) and the page will load as expected.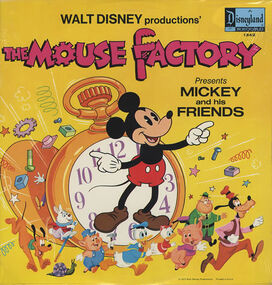 The Mouse Factory
was a syndicated television series produced by Walt Disney Productions which ran from
1972
to
1973
.
It was created by Ward Kimball and showed clips from various Disney cartoons and movies, hosted by celebrity guests (credited as being "Mickey's Friend"), including Johnny Brown, Charles Nelson Reilly, Jo Anne Worley and many more, visiting the Disney studio (or "The Mouse Factory") and interacting with the walk-around Disney characters from the theme parks in live-action Laugh-In-style wrap-around skits.
The theme played over the previews of each episode was a fast instrumental version of "Whistle While You Work", with various Spike Jones-type sound effects thrown in.
The song played over the end credits was "Minnie's Yoo Hoo".
However, due to low ratings, the series was canceled after its second season. It was later re-run on The Disney Channel in the 1980s and '90s.
List of episodes
43 episodes, each one with a different theme, were produced, each containing Disney cartoons, shown either in whole or in part, including:
Season One
Season Two
Alligators (Hosted by Johnny Brown)

Clip of Peter Pan involving Tick-Tock the Crocodile trying to eat Captain Hook at Skull Rock
Clip of the Dance of the Hours scene of Fantasia with Ben Ali Gator

Paul Bunyan (Hosted by Jim Backus)
Bullfighting (Hosted by Bill Dana)

Knighthood (Hosted by Henry Gibson)

Clip from The Sword in the Stone

Pluto (Hosted by John Astin)

Goliath II (Hosted by Kurt Russell)
The Mouse Show (Hosted by Dave Madden)

Clip of Cinderella involving the mice outwitting Lucifer

Cats (Hosted by Shari Lewis and Hush Puppy)

Clip of The Great Cat Family involving the history behind cats

Ben Franklin (Hosted by Wally Cox)

Lions (Hosted by Henry Gibson)

Consciences (Hosted by Harry Morgan)

Clip from Pinocchio involving Jiminy Cricket singing "Give a Little Whistle"

Noah's Ark (Hosted by Bill Dana)

Hunting (Hosted by John Astin)

Sports (Hosted by Nipsey Russell)

Tugboats (Hosted by Dave Madden)

Little Toot (from Melody Time)

Automobiles (Hosted by Ken Berry)

Trains (Hosted by Harry Morgan)

Homes (Hosted by Jim Backus)

The Reluctant Dragon (Hosted by Wally Cox)
Wheels (Hosted by Johnny Brown)

Winter Fun (Hosted by Kurt Russell)

Penguins (Hosted by Annette Funicello)

Elephants (Hosted by Nipsey Russell)

Clip from Dumbo involving the Pink Elephants on Parade scene

Mickey and the Beanstalk (Hosted by Shari Lewis and Lamb Chop)
Dancing (Hosted by Ken Berry)