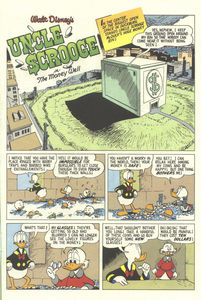 The Money Well is a Scrooge McDuck comic book story, written and drawn by Carl Barks. It was originally published in Uncle Scrooge #21 (March 1958).
Plot
Scrooge and his nephews are at his Money Bin where they find out that the Beagle Boys are placing oil rigs on adjacent property intending to slant drill and suck Scrooge's money to a remote location surreptitiously. Scrooge and his nephews use a secret escape tunnel built during the time of Fort Duckburg to take the money to the nearby riverbank where it can be loaded on barges and transported and injected into an artificial hill under a homestead that Scrooge had bought. However, due to his unwillingness to buy new glasses he misreads the survey map and accidentally puts the money on the land of Blackheart Beagle. The Beagle Boys discover this and become legal owners of Scrooge's money. After Scrooge buys a new pair of glasses he pretends to be the valet of The Beagle Boys until he finds out information on their grandfather. The Beagle Boys are wise to Scrooge's intentions however and they tie him up after Blackheart arrives. Blackheart confesses to his grandsons that he never owned the land and Scrooge seizes the opportunity to escape after pretending to shine The Beagle Boys shoes (and while doing so tying their shoe laces such that the shoes are tied together). After making his getaway Scrooge goes to the land office and files a claim on that land and gets his money back. Blackheart and the Beagle Boys try to beat him in filing the claim using the oil rig as transport but it hits overhead wires and they end up getting tickets for reckless driving.
External links
| | |
| --- | --- |
| | This page uses content from the English Wikipedia. The article or pieces of the original article was at The Money Well. The list of authors can be seen in the page history. As with Disney Wiki, the text of Wikipedia is available under the GNU Free Documentation License. |
Ad blocker interference detected!
Wikia is a free-to-use site that makes money from advertising. We have a modified experience for viewers using ad blockers

Wikia is not accessible if you've made further modifications. Remove the custom ad blocker rule(s) and the page will load as expected.