The Merry-Go-Round Broke Down
Comments

0
19,094pages on
this wiki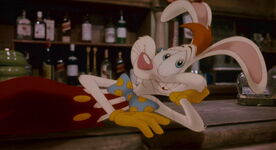 The Merry-Go-Round Broke Down
is a song most commonly associated with Looney Tunes.
Roger Rabbit
sings the song to entertain barflies in Dolores' bar. These aren't the actual lyrics to the song, they were written for
the film
only.
Lyrics
My buddy's Eddie V
A sour-puss he be
But when I'm done
He'll need no gun
Cause a joker he will be
C, D, E, F, G, H, I...
Love to raise some cain
Believe me it's no strain
It feels so great
To smash a plate
And look there is no pain... no pain... no pain...
Later on Eddie Valiant sings a couple of lines to make the Toon Patrol laugh themselves to death:
Now Roger is his name
Laughter is his game
C'mon you dope
Untie his rope
And watch him go insane

This singin' ain't my line
It's tough to make a rhyme
If I get stuck
I'm out of luck
I'm running out of time

I'm through with taking falls
I'm bouncing off the walls
Without that gun
I'd have some fun
I'll kick you in the... Nose!
Nose? That don't rhyme with walls.

Eddie:
No, but this does.