Ad blocker interference detected!
Wikia is a free-to-use site that makes money from advertising. We have a modified experience for viewers using ad blockers

Wikia is not accessible if you've made further modifications. Remove the custom ad blocker rule(s) and the page will load as expected.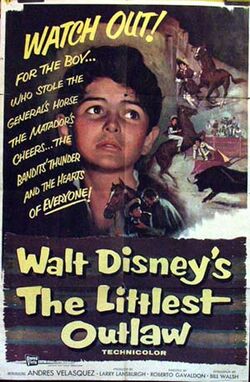 The Littlest Outlaw
is a film produced by Walt Disney Productions. It was filmed entirely on location in Mexico in English, with a largely Mexican cast and crew and released by Buena Vista Distribution on
December 22
,
1955
. It was directed by Roberto Gavaldón and written by Larry Lansburgh (story), and Bill Walsh. The film was produced by Larry Lansburgh.
Synopsis
Little Pablito is the ten year old son of a cruel horse trainer. The trainer is responsible for training a Mexican General's horse to jump for the grand race. The trainer's methods cause the horse to become afraid of jumping and the general orders the animal's death. Pablito runs away with the horse, becoming a fugitive. He travels throughout Mexico encountering several fugitives and a priest who tries to help.
Cast
Pedro Armendáriz as Gen. Torres
Joseph Calleia as Padre
Rodolfo Acosta as Chato
Andrés Velázquez as Pablito
Laila Maley as Celita
Pepe Ortiz as Himself (matador)
Gilberto González as Tiger
José Torvay as Vulture
Jorge Treviño as Barber
José Ángel Espinosa 'Ferrusquilla' as Señor Garcia
Enriqueta Zazueta as Señora Garcia
Irving Lee as Gypsy (as Senor Lee)
Carlos Ortigoza as Doctor
Margarito Luna as Silvestre
Ricardo Gonzáles as Marcos
Gallery