Ad blocker interference detected!
Wikia is a free-to-use site that makes money from advertising. We have a modified experience for viewers using ad blockers

Wikia is not accessible if you've made further modifications. Remove the custom ad blocker rule(s) and the page will load as expected.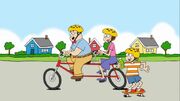 "
The Little Things We Do
" is a
Schoolhouse Rock!
song, from
Schoolhouse Rock! Earth
.
Song Lyrics
Mr. Morton wasn't famous or important
Lived an ordinary little life
He had a son named Norton, a cat named Orton
And Pearl was his wife
Pearl liked to shower for about an hour
Little Norton never turned off lights
And as for Orton the cat
He wouldn't scat till they turned up the thermostat
Pearl: Come on now, Orton, scat!
One night, the Mortons all were watching television
When they heard the news
Due to energy consumption that's causing global warming, the Earth has got the blues.
The arctic's melting, the sea is rising
We have got to set the Earth to rights
And even Orton the cat dropped his rat
And he stared at the thermostat
Must be something we can do
Must be something we can try
Mr. Morton said:
Mr. Morton: I may be ordinary but an ordinary guy
Could be important with a capital I
I can turn off the lights when they're not in use
Unplug things that keep using juice
Instead of driving where I like
I can take the bus or walk or bike
Norton: Instead of turning up the thermostat
I can put on a sweater and hug the cat
Pearl: Bring my own cloth bag to the grocery store
And when I shower, I'll keep it short
Mortons: Oh, it's the little things we do, you and I
That can save the world by and by
Oh it's the little things we do if we try
It's important with a capital I
I can plant a tree and keep the house real cool
Car pool when we go to school
Tune up the car, drive a little bit slower
Mow that lawn with a real push mower
Talk to friends and neighbors, too
About how to help and what to do
Now Mr. Morton, Norton, Pearl
And even the cat are saving the world
Oh, it's the little things we do, you and I
That can save the world by and by
Oh it's the little things we do if we try
It's important with a capital I
Now, the Mortons may be ordinary people
But they're working at their new routine
Mr. Morton's head of neighborhood recycling
His whole town is thinking green
Ordinary, well not so very
It's important and I'll tell you why
We're saving energy now knowing how
It's important with a capital I
And even Orton the cat gets a pat
When he turns down the thermostat